WE REGRET THAT THIS EVENT HAS BEEN CANCELLED
This year's BCATW 2018 symposium committee has lined up three varied and successful writers willing to tell us how they are thriving in the current media environment in a panel called Practical Solutions to the Challenges of Media Today.
Jane Mundy is a freelance travel writer as well as a photographer, cookbook author and active on Social Media. She's a regular contributor to the Vancouver Sun, The Province and Postmedia News and her articles have also been published in Scientific American, as well as trade and law journals. TMAC (Travel Media Association of Canada) award her for "best environmental" article in 2017 and Taste Canada awarded her a "Gold" for her second Ocean Wise cookbook, focusing on sustainable seafood.
Lucas Aykroyd is an award-winning Vancouver-based writer and public speaker specializing in travel, sports, and working Van Halen into conversations. His work has appeared in the New York Times, the Washington Post, National Geographic Traveler, The Globe and Mail, Delta Sky, and Ms. Magazine.  In 2017, he launched the Irene Adler Prize, an annual $1,000 scholarship for women writers.
Leslie Anthony is a Whistler-based writer, editor, photographer and occasional filmmaker. A former editor at Powder, Bike and SKIER magazines, he is current Editorial Director of award-winning Mountain Life Annual, pens a weekly column in Pique Newsmagazine, and writes broadly on travel, adventure, science and the environment in magazines like Canadian Geographic and British Columbia. Author of two previously acclaimed popular books — Snakebit: Confessions of a Herpetologist (Greystone 2008) and White Planet: A Mad Dash through Modern Global Ski Culture (Greystone 2010)
At the symposium, they'll offer lots of answers, but for now, we have few advance questions, like…
What do you think are the biggest myths about the travel writing profession?
Jane – That travel writing is easy. For me, travel is the most difficult to write. Finding a unique angle, something that hasn't been written over and over…not easy.
Lucas – That it's impossible to make a living as a travel writer. And, that the shift to digital has changed everything forever, and writers should spend more time promoting their work on social media than working on their craft.
Leslie – That it's just about "travel," when it's really the same storytelling about people, places and things that drives all narrative.
If you could go back in time and tell your younger self one thing about writing, what would it be and why?
Jane – Start writing now. And write every day. I didn't start a full-time writing career until 15 years ago; if I started earlier I may have been able to pursue a career as investigative reporter.
Lucas – The writing you do is always better than the writing that you don't do. Agonizing and procrastinating gets you nowhere. If you do your baseline research, ask the right questions, make no excuses, always add value, pursue your original ideas, and stop placing limitations on yourself – and you will achieve your goals.
Leslie – I'd say, "Keep it up, you're doing the right thing." I was drawn to writing and was a natural at it; so I unconsciously found a way to incorporate and expand writing in just about everything I did — school newsletters, outdoor clubs, keeping journals, my scientific work as a biologist, stage and film work — so it proved to be the string threading my life.
How has travel changed you as a person and as a professional?
Jane – Hard to say because I've been travelling since I was 16 years old. But I've seen a lot of humanity as a travel writer and think I've developed more empathy along the way.
Lucas – As a person, it's showed me how fortunate I am to live where I live and do what I do. As a professional, it's convinced me that the entire world is my potential market.
Leslie – Books opened my eyes to it, but travel delivered me of the true size of the world — whether nature, geography, outdoor activity, or human culture and history — and instilled a longing to swallow it whole.
You can ask your own questions of these travel writers at BCATW 2018. 

Register now!
The registration fee includes coffee and rolls, lunch, snacks, prizes, and entrance to our after party.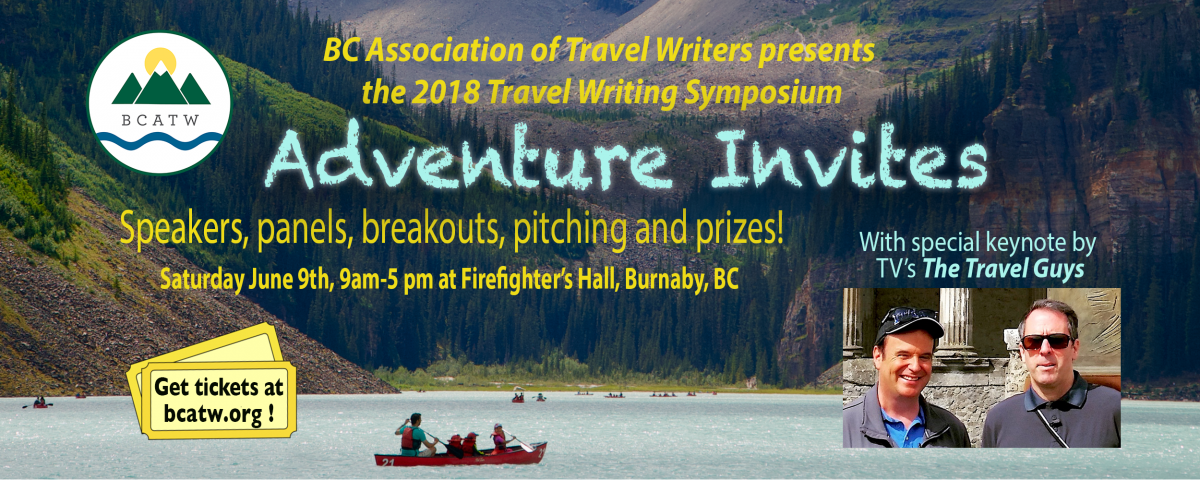 Early-bird rates of $75 for BCATW members or $85 for non-members end May 12.
After May 12th, admission is $85 for members and $95 for non-members.
If you qualify, please join BCATW and get the member rate!
 Click here to get your early-bird tickets!
(BCATW members receive discount codes via email.)
See you at the symposium!