We are excited to share that the date, venue and speakers are set for our upcoming BCATW 2019 Symposium.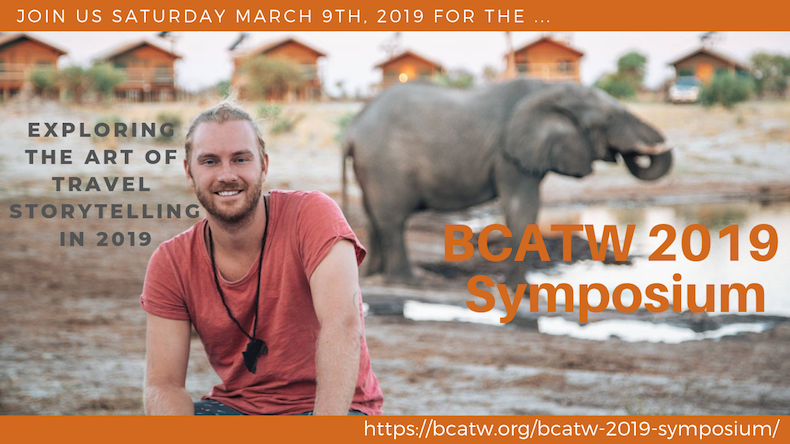 With our 2019 Symposium, we have left the traditional Symposium themes of adventure, luxury, food and wine …etc. to focus on the Art of Travel Storytelling in 2019. We bring together a merging of the minds and expertise, coming from both the traditional and digital media realms to explore what matters to travel media in 2019 – from understanding the multitude of travel storytelling possibilities and platforms, to finding the right funding model for your travel stories, to exploring the fine art of writing and storytelling around food and wine from some seasoned travel storytellers.
The details to mark on your calendar:
✮ Date: March 9th, 2019
✮ Time: 10 am – 3 / 3:30 pm
✮ Venue: Vancity at 183 Terminal Ave, Vancouver BC

Stay tuned to the BCATW Blog for more on the Speakers, but here is a tease of what you can look forward to:

Register for the Symposium now to receive a discount!
The registration fee includes coffee, lunch, and all sorts of great ideas and inspiration from our speakers.
✮ Early-bird rates of $75 for BCATW Media Members or $99 for Non-Members end on March 1st.
✮ Afterward the admission fee is $90 for Media Members and $115 for Non-Members.
✮ There is also an Industry Rate of $200 for travel destinations and brands, that includes an industry membership in BCATW, 

5-minutes to address the room about their destinations or travel product, and a table at the event to share information on their destinations or travel product (if they wish).
If you qualify, please join BCATW and get the Media Member rate!