President's Message
I'm pleased once again to step once again into the role of president for this special travel group. Thank you, Ruth, for piloting the BCATW thus far. The past few years has seen our association grow in numbers, outreach and activities. With exciting plans for our 2017 symposium, a growing Meetup following and new interest from industry sponsors, 2017 promises to be an even better year.
I urge you all to keep an eye on the speakers and activities that we are bringing through the Meetup sessions. Remember, these are not just means of education, but fun opportunities to network and learn about upcoming travel events and tours. We have selected a keen leader for the symposium – Fabiano Maciel – and we're looking for some eager participants who have great ideas for next year's event. Please get in touch if you can help.
And this year we're putting a stronger focus on getting invitations to tourism industry functions out to our members as a means of increasing the value of your membership. (By now you should have received the first of these invitations to Vivo Resort in Mexico; contact me if you haven't.)
All in all, 2017 is looking to be a great year for travel, networking and education, and I look forward to hearing your ideas and feedback.
Hasta luego!
– Baila Lazarus, BCATW President
ANNUAL GENERAL MEETING 2016 

SUMMARY

The Annual General Meeting of the BCATW was held on November 19, 2016 at the Big Rock Brew Pub. Turnout allowed association business to proceed as outlined in the Agenda circulated earlier to all members. Ten full members and three Associate members were in attendance. Always much appreciated are the Proxies provided by members unable to attend.

The Board is a group of volunteers working on behalf of the Association. Outgoing Board President Ruth Kozak and outgoing Media Liason Randi Winter were thanked for their work. Vacant Board positions are open to all interested voting members in good standing. Members interested in serving on the Board have an opportunity to step up at the 2017 AGM or as vacancies occur.   

Elected to the Board of Directors for two-year terms were: President: Baila Lazarus; Vice President: Peppa Martin; Communications: Mari Kane.

The Meeting reviewed the 2016-17 activities, events and finances. In planning for the upcoming year, Constitutional revisions were accepted, priorities set and Symposium 2017 set in motion.

Appointed as Symposium 2017 Chair: Fabiano Maciel
Committee Volunteers: Edward Quan, Rick Neal

Watch for opportunities to become a Committee Volunteer. Stay tuned for Symposium 2017 details as they develop.

Monthly Meetups held on the first Wednesday night have proved successful. The year will wrap up on December 7 with a Holiday themed celebration at the Big Rock.

All members are reminded that annual membership fees of $72 are due by January 15, 2017 

Please contact Board Members with your questions, ideas, feedback and suggestions. Your thoughts are always welcome, expected and appreciated. Many hands make light work!

Best Wishes and Happy Travels to All!
– Chris Millikan, BCATW Secretary
---
Media Member Spotlight: Fabiano Maciel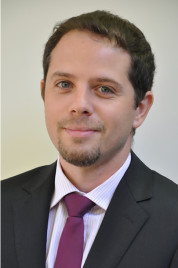 BCATW is please to announce that Fabiano Maciel will be our 2017 Symposium Committee Chair. It will be Fabiano's job to oversee the symposium committee and keep the planning on schedule. More details to come in the new year.
Originally from Brazil (São Paulo), Fabiano has been living in Vancouver since 2010. Business, marketing, social media, customer relationship, and multiculturalism are amongst topics he loves.
Passionate about traveling either for leisure and business, he enjoys sharing his experiences on his blog, BizGlobetrotter. He has visited over 200 cities in 21 countries.
His favourite sports are hiking, biking, skiing and horseback riding.
---
Media Member News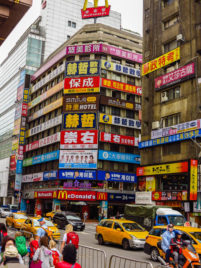 Ruth Kozak is still hard at work on the Greek Islands ebook for Hunter Pub US and is thrilled to announce the galleys for her novel, SHADOW OF THE LION: THE FIELDS OF HADES, are on the way to the book binders…should be out very soon!
Irene Butler and her husband Rick are in currently in fun, friendly, and foodie fabulous Taipei Taiwan! Each street is as colourful as a jumbo box of Crayola's with plenty of action in traffic and crowds – and they are loving the vibes of this city of 2.7 million.   Their Taiwan visit will be followed by more SE Asia.

Edward Quan, luxury fashion and travel writer reviews Seattle Art Museum (SAM) exhibition Yves Saint Laurent: The Perfection of Style on his blog StyleDrama: Yves Saint Laurent Dazzles in the Birthplace of Grunge.
The Britnell's do have a few projects still in development, however, they can confirm that their travel blog (www.thenomadictribes.com) is approaching 24,000 combined social media followers.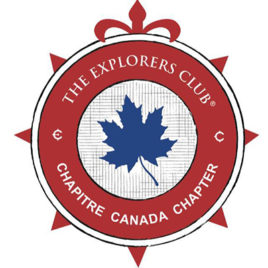 Jett has also been elected as a "Fellow" in the world renowned and exclusive Explorers Club. A fellow is the highest level of membership and is not given without merit. Legendary members in this "fraternity of adventurers" includes Arctic explorer Robert Peary, Antarctic explorer Roald Amundsen, mountaineers Sir Edmund Hillary and Tenzing Norway, astronauts Neil Armstrong and Buzz Aldrin, three former U.S. presidents, Kon-Tiki expedition's Thor Heyerdahl, along with modern day explorers such as marine biologist Dr. Sylvia Earle, inventor of sub sea submersibles and the NewtSuit Dr. Phil Nuytten, anthropologist Jane Goodall, film director James Cameron and Space-X founder Elon Musk to name just a few. Fellowship in the Explorers Club is reserved for those individuals whom they deem have distinguished themselves by directly contributing to scientific knowledge in the field of geographical exploration or allied sciences. Such accomplishments are proven by having a deep resume of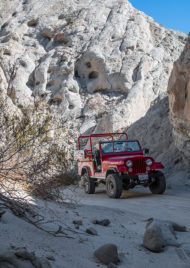 expeditions, adventures, scholarships, and/or publications documenting scientific fieldwork or explorations, but may also be documented in books, popular media, or broadcast media. Along with securing letters of support from two current club members, all new member applications are also screened by a judicious membership panel at the Explorers Club headquarters. There are only about 200 members in the Canadian Chapter.
Julie H. Ferguson is still relaxing in Palm Springs. A month of sleeping, reading, eating, and golfing have done her the world of good after a difficult year. She has also enjoyed some tours and picnicking with her golf partner, including a fascinating jeep tour in the San Andreas Fault, hiking in the Andreas Canyon, and a mid-century architectural tour. Julie is now organizing her April 2017 trip to Morocco and Madrid. For more on her time in Palm Springs, please visit Stamps in my Passport and scroll down for four posts.
Lindsay Nieminen decided to take a leap of faith and leave her career to pursue blogging and writing full-time. She won a trip to Jordan in September and that set the wheels in motion for her to take the plunge and follow her dreams. Lindsay had two of her posts from her recent trip to Jordan published. You can find them on Canadian Traveller Magazine's website here and on Ruth's Travel Thru History website here. While in Jordan, she fell in love with the country and the people and plans to take her family back there for 2 months this spring and explore the rest of the country, as well as Israel and Egypt.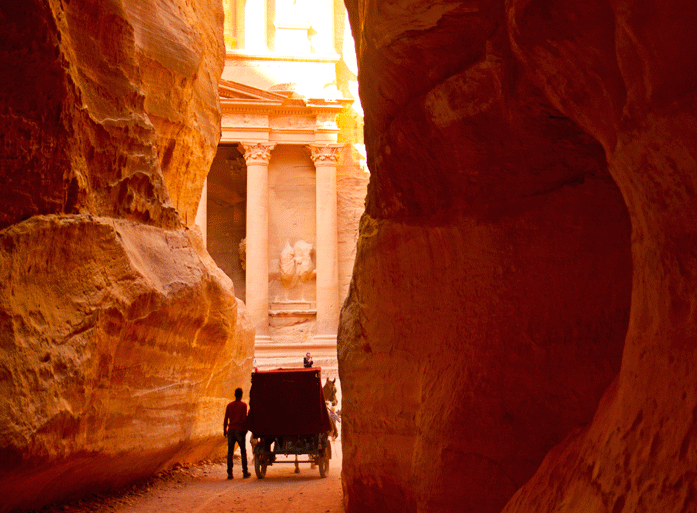 While he was in China, Brian K. Smith managed to get hold of a few copies of the Chinese magazine "Xianease" from the city of Xi'an. After publishing an article about Brew Master Jon Therrian in What's Brewing magazine, Jon requested that he allow the Chinese magazine use them for a feature article in China. Much to his surprise, he got the front cover and a two page spread in the magazine. It has been a great year for cover photos and published articles – both locally and internationally! Thank again to all the positive energy from BCATW!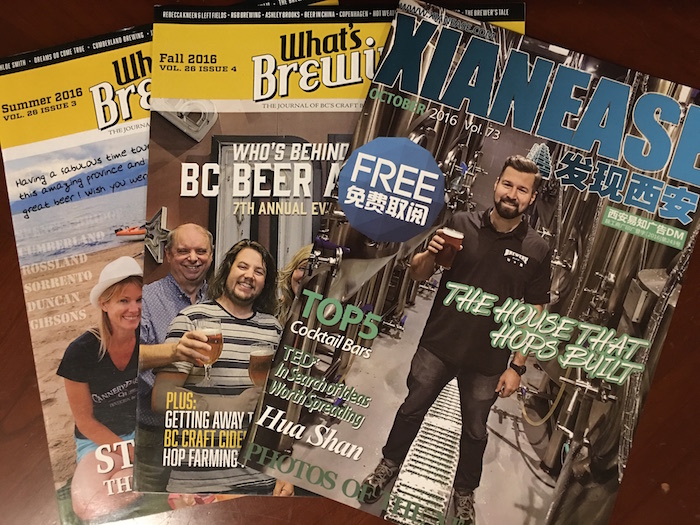 Industry Member News
Cozy up in the Cedar Creek Wine shop for Flights and Bites any day of the week. This seated taster will feature your choice of three wines, with a cheese and charcuterie board. Walk-ins are welcome!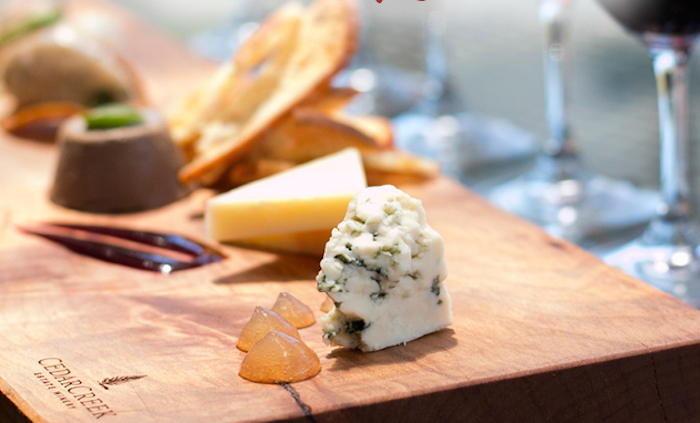 Event name: FLIGHTS AND BITES
Event Date: Friday, November 4, 2016 – Friday, March 31, 2017
Event Time: Daily 11:00 a.m. to 5:00 p.m.
Ticket Price: $20/pp + tax.
Event Details: Available daily 11:00 a.m. to 5:00 p.m.
Closed Dec. 24 & 25 & Jan. 1
Email: wineshop@nullcedarcreek.bc.ca
Telephone: 778-738-1027
Upcoming Meetups
BCATW Holiday Dinner
Wednesday, December 7, 2016

to

Big Rock Urban Eatery
310 West 4th Ave, Vancouver, BC (map)
No big presentations, just a holiday social night for BC Travel Writers, both association members and non-members, offering a chance to create new connections and strengthen old ones. And possibly make plans for the new year!
Come enjoy Big Rock's hearty pub food and craft beer. Games and prizes included.
On the widescreen, we'll play Youtube travel videos from a Youtube playlist. To create this playlist, please submit your Youtube URLs in the comments section below. Submit as many travel videos as you like!
One guest is allowed, so bring your spouse! RSVP now!
As always, our Meetups are free for BCATW members, $10 otherwise.
See you at the holiday dinner and if not, have yourself some happy holidays!