SYMPOSIUM 2014 The Results Are In!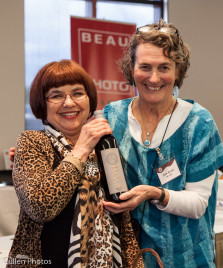 The BCATW Symposium 2014 was the biggest so far and was a huge success! 'The Taste of Travel' attracted a large and appreciative group of attendees that included current and new media members, as well as present and new Industry members. Go to bcatw.org/bcatw2014 to find links to all the event articles and images.
Kudos, thanks and congratulations to the Steering Committee for the months of dedicated teamwork: Ruth Kozak (Chair); Randi Winter; Kerri-Jo Stewart; Cassandra Anderton; Mari Kane; Darlene Foster…and other helping hands behind the scenes: Irene Butler, Karoline Cullen and Chris Millikan.
We salute the River Rock Casino Resort for its generous support of the BCATW as well as the new Industry Partners who came on board: Beau Photo, Edible Canada, Fulcrum Media (EAT! Vancouver), Lotus Land Tours, and Slap Marketing.
The Association has also warmly welcomed five new full members and seven new Associate members since April.
Very much appreciated is the feedback from 37 returned attendee surveys. The compiled results will help guide the committee with future event planning. Thank you for taking the time to comment on the program, the speakers and the day.
We look forward to seeing you again at the Annual General Meeting, upcoming in November, as well as at the Meet Up Program currently being organized. Watch for details here at BCATW Buzz and at our Meetup page.
TRAVEL ADVICE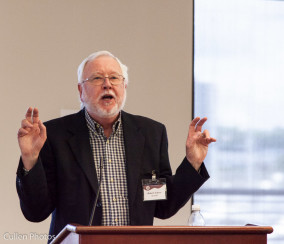 Robert Scheer, BCATW's newest Honorary Lifetime Member and self-proclaimed "Official Curmudgeon" had some advice he wanted to share at last month's Symposium, but had to be cut from his speech due to time constraints. It was advice based on an unpleasant experience he had on a press trip when he was mugged and had his camera stolen.
1) Always carry a back-up camera, just in case your primary one "goes missing."
2) Back up your photos and video files every night, so if your camera does get lost or stolen, you will only lose what you shot on that day.
3) Read the fine print regarding your credit card benefits, and you might get a new camera free.
Robert had purchased a new Nikon camera less than a few weeks before leaving on his trip, and he paid for it with a credit card. After sending the credit card company a copy of the police report proving that the camera had indeed been stolen, they allowed him to buy a free replacement.
MEMBER NEWS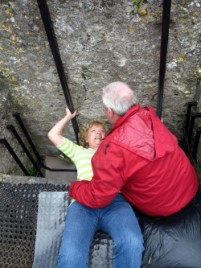 Irene Butler's article Ireland's 50 Shades of Green is in the June issue of Senior Living Magazine. The countdown is on for Irene and her husband Rick. In early July until sometime in November 2014 they will set off on a blitz of the 22 European countries which they have not yet been to. At least this is the loose plan, as they never travel with a schedule, with the exception of their first destination. More to follow at: www.globaltrekkers.ca
Cherie Thiessen is currently on assignment, cycling in southern Italy. Her story on Sidney by the Sea is in the current Pacific Yachting Magazine, and her three stories on Mayne, Saturna artist, Anne Popperwell, and Cable Bay Farm on Galiano are in the current Aqua Magazine. A story on Molokai, Hawaii is also up on her website. 
New member, Joan Boxall, completed her first 'Senior Living' article in the March, 2014 edition,  and has another upcoming for Spring, 2015 on Salt Spring Island's 'Food-to-Fork' initiative. Joan and her husband Ken will do some self-guided bicycling in Copenhagen and Stockholm this summer.  BCATW's 'Taste of Travel' enterprise was helpful and timely, THANKS!  You can meet her on her blog where she posts some x-c ski/kayak/bicycle/literary adventures and poetry including six YouTubes which combine photography, music and environmental verse.
We encourage new members to send in articles and let us know more about you and where we can find your travel writing!

Classes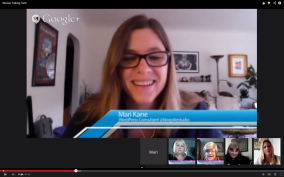 Ruth Kozak will teach a Travel Writing class from July 2 – 23 at John Oliver High School. 7 – 9.30 pm. Travel Writing: Articles, blogs, and Travel Memoirs. Register with VSB Continuing Education. She is also offering classes in Writing Your First Draft (July 3 – 24) and Prompting the Muse.(July 8 – 29). You can read Ruth's Egypt blogs at  More articles will be published on-line in travel 'zines soon. She recently had an article on Anafiotika, the little village under the Acropolis, published in Europeupclose
Mari Kane is teaching a two-part online WordPress Construction Party series on Google Hangouts, to help you build a dynamic website. You'll learn all the essential skills and tasks needed to populate your site and start growing your audience and leads. You'll also learn how to use Google Hangouts, which can be applied to many uses. In follow-up parties, you'll get a critique of your site, with tips for improvement. All from the comfort of your home office! The First Party  is scheduled for Saturday, June 21, 10am- 1 pm with the Second Party on Saturday, June 28, 10am- 1 pm. Get more details at WordPress Construction Party
Industry Member News
Peter Loppe of Lotusland Tours is having a travel story contest.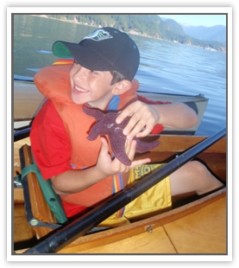 Write a story about his kayak and beach barbecue trip for a chance to win a day trip to Victoria for 2 .(Going to Victoria by sea-plane, return to Vancouver by bus.) The story should be 200-300 words in length and focus on a specific aspect of the trip (e.g. the food, the kayak, Indian Arm, environment, wild life, clientele, etc.) Your imagination is the only limitation. The story should include the keyword phrases: kayaking Vancouver – Vancouver kayaking tours.
The winner will be picked based on imagination and riveting narrative of the story. Mari Kane and  Peter Loppe will be the judges.
1st price – day trip to Victoria (your option to choose to stay overnight and come back on the next day. Accommodation is not included)
2nd price – a gift certificate for a kayak and beach barbecue (use at Christmas, Valentines Day, or as a birthday gift)
Contact Peter to sign up for a familiarization trip. For contest participants the trip is free. A friend may come along for half price.
Phone: 604-684-4922 Email: lotusland@nulltelus.net 
Great Gatsby Garden Party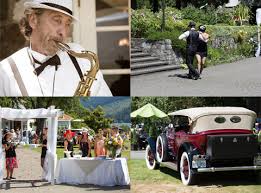 Pretty Estates Resort will be hosting its 2nd Annual Great Gatsby Garden Party on July 6, 2014 from 11am to 4pm. Inspired by the Hollywood Hit, The Great Gatsby, this 1920s-themed poolside gathering will feature live music, swing dancers, and a craft fair showcasing local artisans.
Headlining the party is Jennifer Hodge, a noted Vancouver-based bass player. Hodge has twice led a quartet, in the Vancouver International Jazz Festival, been nominated for the CBC Galaxie Rising Stars Award. Party guests are encouraged to dress in the classical style of this bygone era, and will enjoy an Afternoon Tea menu, including savouries and dainties, prepared by Executive Chef, Jonathan Gee, and his team.
Pretty Estates Resort is at 14282 Morris Valley Road, Harrison MillsEarly bird tickets are only $22.00 until June 15. They are available by phone at 604.796.1000 or online under 'Events' at www.prettyestateresort.com
Contact Summer Dhillon at summer@nullslapcommunications.com or 778.318.6592 for media passes.
Harrison Mills, Rebranded
The community of Harrison Mills has launched a new destination brand strategy and website to differentiate the emerging tourist hotspot. 
Funding for the destination branding strategy was issued as a Community Tourism Opportunity (CTO) partnered funding grant, which was awarded by Destination BC & Vancouver Coast and Mountains in the fall of 2013.  
Harrison Mills is 3 hours from Seattle, 1.5 hours from Vancouver, and 35 minutes from Abbotsford. Guests can arrive by car, boat or plane. For more information, visit: www.tourismharrisonmills.com, or keep the conversation going on Facebook, Twitter and Instagram.
Thanks to all members for your contributions! Please keep 'em coming!
Cheers!
-Darlene Foster, Mari Kane