President's Message
If you scan the offerings of travel conferences around North America you'll notice one thing they have in common. It's that although travel media delivery methods change (writing, video, print, online) the main goal is the same – understanding how to generate interest in your articles and ideas so you can get paid to travel. That means getting tips from other writers who have been successful, as well as from editors who will tell you what they're looking for.
BCATW's goal is to support our members in all your travel writing, photography and videography, so both of these valuable resources (a writers panel and editors panel) are going to be available at our symposium June 9th, along with breakout workshops, networking opportunities, door prizes and the chance to rub shoulders with a couple of television's quirkiest travel hosts – The Travel Guys. It promises to be a content-packed and fun conference, so plan your June weekend now.
And, if you haven't renewed your membership yet, please do it now. You'll want to get your member discount for the symposium.
Have a great March!
– Baila
BCATW 2018 Symposium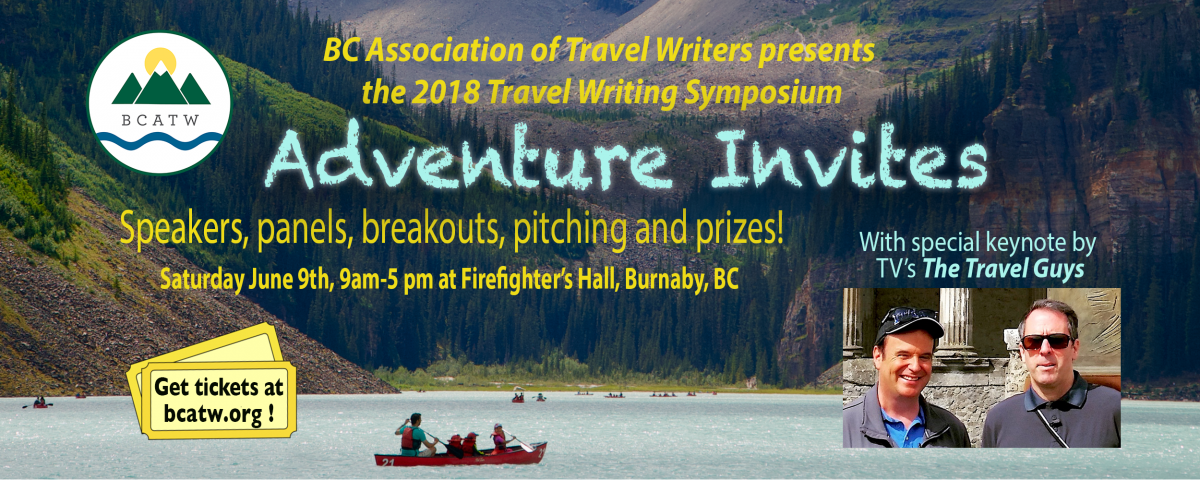 Our 2018 BCATW Symposium is taking shape and the official event page has been launched. Our panels will be announced soon, so please revisit after March 15th when tickets go on sale
We are now looking for volunteers who will allow us to deliver a beautiful event. Here are some key positions we are currently recruiting for:
Assistant to Communication & Social Media: if you like communicating and love working with social media tools, you can support our Coordinator to make sure we are able to spread the word about the Symposium.
Prize Donation & Sponsorship: Have you worked with non-profit and charitable organizations before? Your relationship building and coordination skills are much needed in this hard task.
Helping out with these and other tasks will earn you free admission to the symposium, so please contact us to volunteer.
We also have a few presenter spots available for our Breakout Sessions. If you are passionate about Adventure Travel or it have tons of experience on a related topic you would like to share, apply to be a facilitator. Contact us to learn more about this opportunity.
Again, early-bird registration to the Symposium will be available March 15. So watch for updates that will be posted on the 2018 BCATW Symposium webpage in the days and weeks to come.
Web Design Offer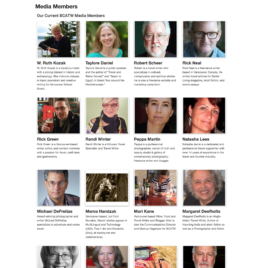 BCATW's Communication Director, Mari Kane, realizes that not all BCATW members feel comfortable working with WordPress in order to update their profile page. That's why she's making an offer to members to update (or build) their pages for them – at a discounted rate.
For $50 per hour, Mari will take your fresh text, photos, and links and post them on the site in an attractive way that will get you noticed by editors. Updates should only take one hour, fresh builds up to two hours.
With the attention the BCATW site will get in the run up to the 2018 symposium it's worth it to have your profile page looking as good as possible. Contact Mari by email today!
Media Member News
Joining BCATW in February 2016, J. Kathleen Thompson was pleased to see a number of her articles accepted for publication in 2017.  TravelthruHistory features another of her Mediterranean 'jaunts' in "An Accidental Pilgrimage", which recounts a journey that spans from Santiago de Compostela in Spain to Jerusalem. Her house – and lifestyle – in Greece gets a thumbs-up in International Living, and her volunteer work with refugees on the island of Samos, Greece warranted a look by Transitions Abroad, Verge Magazine, and Inspired Living (May 2018).
Looking ahead, Joan's articles that feature authors (Leslie A. Davidson: Never too Late to Launch a Writing Life) and musicians (Walking Past Monasteries and Marianne Right into Rebetiko) are due out in spring issues of Senior Living Magazine. Stories about overlanding in South Africa, teaching in Bhutan, and cycling along the Silk Route may also follow in 2018!  You can catch them first on her blog: https://justgojo.com. She wishes everyone a happy, inspiring, writing-filled year!

Jett Britnell has the "Parting Shot" in the next issue of Alert Diver, the quarterly magazine of Divers Alert Network (DAN) which is read by more than 250,000 active divers, 1,100 dive businesses and 14,000 dive professionals.
Darlene Foster
is soaking up the sun in Spain as the rest of the world seems to be shovelling snow. Darlene and her husband make a point of exploring the interesting small towns and churches tucked away in their surrounding area. Her article about one unique sanctuary they visited has been recently featured as a
guest post
. When not out exploring or walking the dog on the beach, she is busy scribbling away on her seventh book in the Amanda Travels series,
Amanda in Holland – Missing in Action.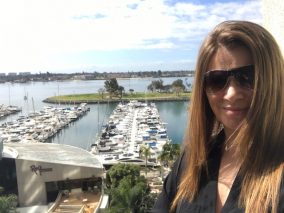 Jami Savage
is excited to be taking part in
Social Media Marketing World Feb 28-March 2
in San Diego. There she will be connecting with over 5000 social media marketers to learn about what's new, what's trending, and what changes are coming to social for 2018!
Jami is excited to share what she's learned at the upcoming
BCATW symposium
!
Industry Member News
Don't miss Bestway Tours & Safaris' upcoming travel events!
TRAVEL TALK: India as a Maharaja
Thursday, March 01 at 7:00 PM
Alma VanDusen Room, Vancouver Public Library
Explore must-see India sites, including vibrant Delhi, the Taj Mahal, tigers in Ranthambore National Park and more. *This will be the official launch of Bestway's one-time India as a Maharaja tour, which includes airfare from Vancouver* FREE TICKETS at: https://bestway.com/
TRAVEL TALK: Culinary Journey through Vietnam with Chef Cameron Stauch
Saturday, Mar 17 at 3:00 pm
Peter Kaye Room, Vancouver Public Library
*WIN A SIGNED COPY OF CHEF CAMERON'S NEW COOKBOOK* Chef Cameron is the author of "Vegetarian Viet Nam", rated as one of the ten best cookbooks of spring 2018. In this presentation, he gives us a taste of Vietnam's cooking traditions, including the world's best street food in Hanoi and inside looks at the kitchens of the country's top chefs. FREE TICKETS at: https://bestway.com/

BCATW Meetups
Repurposing Content and Photographing India – a BCTW Double Header!
295 East 1st Avenue · Vancouver, Upstairs in the board room
Two presentations will inspire writers to hit the road!
Michelle Abraham, Digital Nomad Entrepreneur & Podcaster, will discuss repurposing content in the brand new travel niche of RV travel.
BCATW member, Craig Minielly will take us on a photographic journey through the northern frontier of India in advance of a November 2018 tour to the South of India.
Read more on the Meetup page and RSVP today!