BCATW 2015 was a huge success!
Everyone had a fabulous time on Saturday, April 18 at our annual symposium, this year themed, Ecotourism: Tread Softly, Write with Impact.
Our thanks go out to all the members and non-members who attended, our informative and entertaining speakers, our generous prize donors, and our supportive sponsors who helped us make it happen. Thank you all!
Congratulations to Jett Britnell, Brian Smith and Karoline Cullen for winning 1st, 2nd, and 3rd place respectively in our Visions of Ecotourism Photo Contest, and thanks to David Smith for judging.
Congrats to Baila Lazuras, John Geary and Leslie Santos for winning 1st, 2nd, and 3rd place respectively in our Twitter contest, and to Ricky Shetty for judging – and setting up the Live Tweets.
Congratulations to all the prize winners, both grand and small! We can't wait to read your stories.
Lots was said, much was learned, hours of video was shot. We'll post video excerpts of BCATW 2015 soon, but for now, here are some photos by Karoline Cullen.
To read about our symposium, please read these posts about it, which are currently entered in our Symposium Blog Contest.
BCATW Symposium 2015 Takeaways by Joan Boxall
BCATW 2015 by Jami Savage
Brave New Worlds await traditional writers, bloggers alike by John Geary
BCATW 2015 Symposium Blog Contest
BCATW invites attendees of BCATW 2015 to blog about the event and enter our blog contest.
We encourage you to be creative. The winning entry will clearly describe BCATW 2015, such as the speakers, panels, drawings, and networking, to convey what the reader learned during the symposium. 
To Enter: Write a post (Minimum length: 300 words) and publish it on your blog with a link to "https://bcatw.org/BCATW2015."
Send a notification email with the subject header "BCATW Blog Contest" and your blog will be entered in the contest.
1st Prize is Scandinave Spa for 2
2nd Prize is Sewell's 2-hr tour for 2
Deadline is May 30. Winner will be announced June 8.
Good luck!
May Meetup
How to Shoot Travel Videos using your Smart Phone with Michael Rubin
Thursday, May 27, 7pm at Randi's Room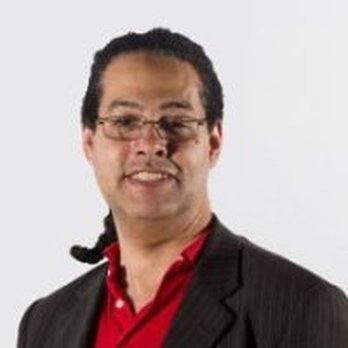 Let's talk about how you can shoot a wonderful travel video with something as small and light as your smart phone, because as a travel writer you may not be able to carry around a bulky camera.
Michael Rubin will teach you the right skills to be able to showcase the sites you are writing about in a way that will get the people excited.
Your takeaway will be:
how to structure a video
how to use lighting
how deliver an inviting message
As a media professional, Michael has been involved in Marketing since 1990, helping to send many products to market. What he enjoys most is helping businesses grow.
His latest project is aimed at creating media. YouTube and the Internet are a great resources that can be used to spread information and that is what his YouTube Channel, The Business Experts Show, is about.
Please RSVP at Meetup.
Member News
Kami Kanetsuka will be reading from her piece, "What Am I Doing Here," published in 'This Place a Stranger' — Canadian Women Travelling Alone, at a book launch on Saturday, May 9th, 7pm at Artspeak, 233 Carroll Street, Vancouver.
Ruth Kozak completed a very successful 8 week Travel Writing Workshop from her home with enthusiastic results from several of the new BCATW members. Because of the success of this workshop she'll plan to do another one later. On July 25th Ruth will run a Travel Writing Basics workshop at the VPL from 1 – 3 pm.  Ruth has been busy with various writing related activities including a wonderful press trip to Arlington, WA and the Semiamhoo Resort.  She has also been busy with book readings and writing workshops, and just presented a successful workshop on "So You Want to Write a Historical Novel" for the Royal City Arts Society Lit Fest at Douglas College. Ruth will be reading from her novel Shadow of the Lion: Blood on the Moon on June 10 at the main branch VPL, and on June 18 at the Kitsilano Branch.
Karoline Cullen's story "Northern Nuggets" was the lead story in the April issue of Senior Living Magazine. Karoline also commends Mari Kane and her Symposium committee for planning and executing an excellent event. "Take a bow!"
Life just seemingly keeps shifting into a higher gear for Jett & Kathryn Britnell. Their story, Foodie Paradise – Granville Island Market, was published on Matador Network.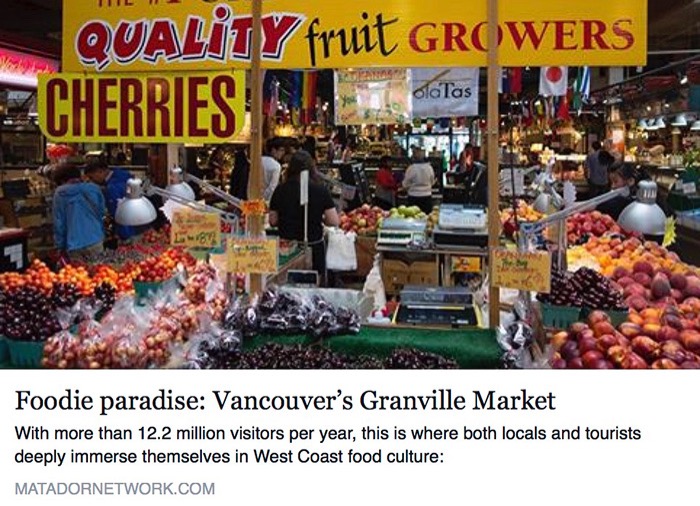 One of Jett's tiger shark images made both the "Picture of the Day" and "Picture of the Week" in The Telegraph (UK). The Britnell's also just emerged from a full weekend of blogging brilliance at Ricky Shetty's "Blog Mastery Conference" in Vancouver.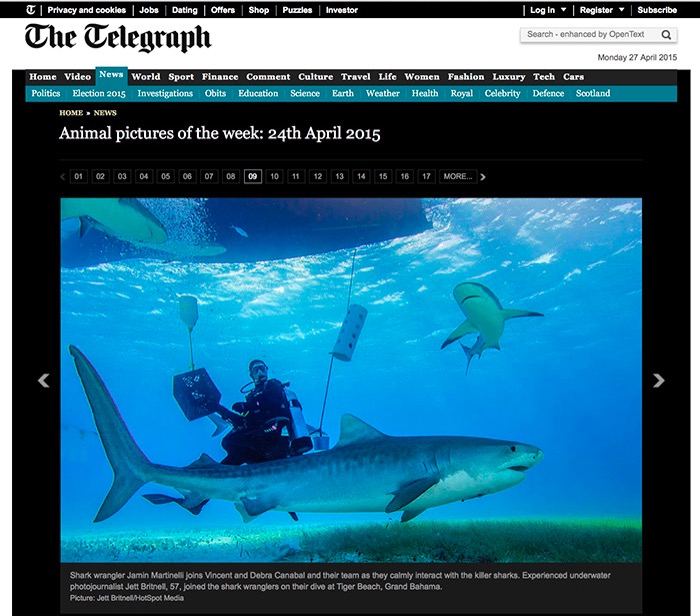 Peppa Martin, through her 'truth and beauty studio and gallery', along with Travelteerism is pleased to announce a custom 10-day photography field trip to three beautiful destinations in Central Mexico, October 23 – Nov. 1, 2015. Hone your visual or written storytelling skills, create a compelling photo portfolio, volunteer with a local social welfare organization, and tour art and architecture highlights of the area. This specialized itinerary promises to be inspired and memorable for artists, writers and curious travellers alike. Come along! For full information and details, and to reserve your spot, please email Peppa. View the full itinerary.
Cherie Thiessen has just returned from an awesome two-week safari in Namibia and now busy writing up her experiences for the four markets that helped move the trip from the bottom of the bucket list to the top. Her only regret – this caused her to miss the BCATW symposium that she was so looking forward to. Several more press trips loom, not as exciting, perhaps, but still making for a fun summer: Hollyhock on Cortes, Bodega Ridge B & B on Galiano Island, Saturna Lodge on Saturna Island, and a one-week boat charter of Desolation Sound. Life is good.
Edward Quan is playing the role of "being a tourist at home" with his story on the vibrant spring colors at the Tulips of the Valley Festival in Agassiz, BC. This story is the beginning of a travel road series he is writing on luxury weekend getaways in the Pacific Northwest.
Mari Kane wrote a story about wine that appeared in the April issue of Freedom Leaf. The Wine Weed Connection is not exactly travel-y, except in the sense that you need to travel to Santa Cruz, California to try this wine, which Mari hopes to do this summer. Stay tuned for a full review!
Julie H. Ferguson enjoyed a publishing bonanza with her travel articles in April – see her website.  On the strength of these, four more requests brightened her inbox. On May 2, which is Authors4Indies Day, she is participating in a sold-out event at Port Moody Public Library, "Get Published: Explore Your Options," that offers an expert panel (Julie is moderating), workshops, and the chance to meet local authors who will provide guidance for emerging authors. In mid-May, she visits Galiano Island for some photography and relaxation after a stressful six months of health challenges. After that, Julie's off to TMAC 2015 in Peterborough, ON, followed by a river cruise to Georgian Bay with Ontario Waterway Cruises and a visit to Montebello, Quebec.
Daddy Blogger and BCATW Member Ricky Shetty is holding his next big conference from Friday – Sunday, June 26 – 28, 2015 at the Executive Hotel on Lougheed & Gilmore. This Conference is building up from the Social Media and Blogging Conference and will focus primarily on Internet Marketing. For those of you who have a travel blog and want to learn to build up a brand around your travel blog, market your blog and build up your readership, and learn more about different blog monetization strategies, make sure you register for the Internet Marketing Mastery Conference. #IMMastery
Industry Member News
Bestway Tours & Safaris is inviting BCATW members to join a photo safari of India with the highly accomplished and renowned photographer, Craig Minielly. The 16 days small group safari takes off on Oct 18, 2015 visiting Mumbai, Kolkata, Delhi, Jaisalmer, Jodhpur, Jaipur and Agra. The safari has been timed to witness various colourful festivals including Navatra Durga at Kolkota, Dushera at Delhi and the Rajasthan FolkFestival. Limited space available.  Special $ 300 off for BCATW members when booked before May 25, 2015. View details.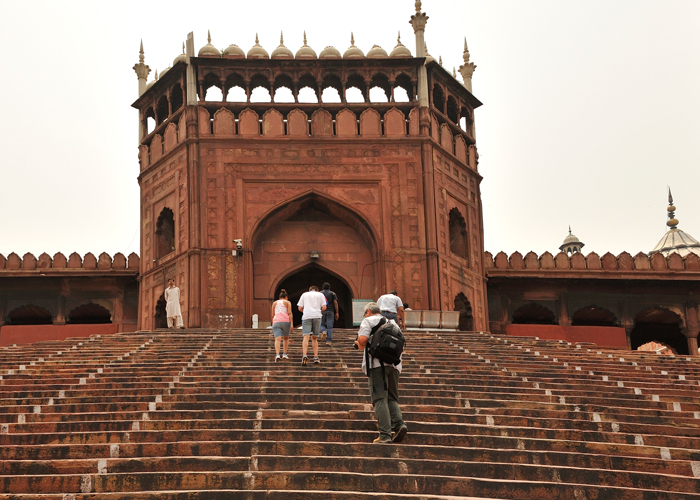 Bestway is offering a $300 discount to all BCATW members on their culinary Journey of Peru.  The 11days tour departing Sep 26, 2015 is led by the award winner Executive Chef of the Araxis Restaurant of Whistler, James Walt. The itinerary covers exciting culinary highlights of Peru including visits to produce markets as wll as visiting major tourist sites of  Lima, Arequipa, Cusco and Machu Picchu. The tour also visits two of the top 20 restaurants in the world. This is an exciting air inclusive package from YVR. View details.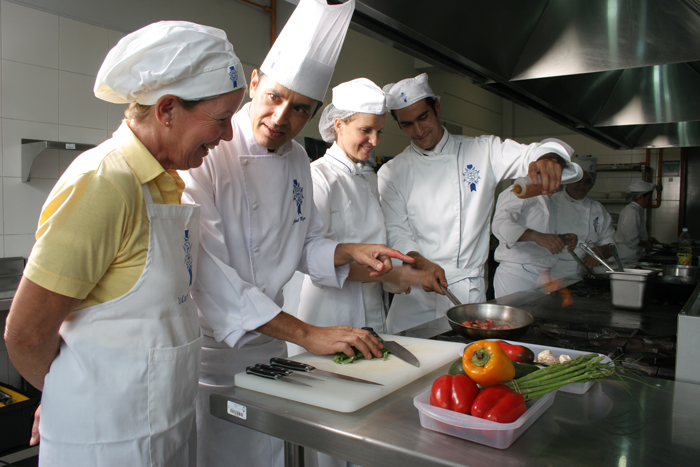 Josh Bloomfield at Cycle City Tours would be happy to have BCATW members join him for a complimentary tour if they provide brief on the article they are researching. The offer would also be dependent on having a minimum of 2 paying guests on the tour, and would be during his "shoulder season" of April-May and September-October. Otherwise, he's offering a 25% discount for BCATW members who just want to enjoy a cycling tour.
"I travel not to go anywhere, but to go. I travel for travel's sake. The great affair is to move." – Robert Louis Stevenson