President's Message
AUTUMN GREETINGS TO ALL THE MEMBERS, ASSOCIATES AND INDUSTRY FRIENDS OF BCATW!
On November 28 we will hold our annual AGM at the Big Rock Urban Eatery. We hope you will join us for this annual event where we will be discussing new issues including changes in the Constitution, the 2016 Symposium and most importantly, voting for new Board members.
If you are unable to attend, you will be sent a proxy vote form which can be sent in to the Board in time for the voting.
The AGM will be held from 11 am to approx 1.30 pm in the upstairs meeting room of the Eatery. Coffee, tea, brunch, and beer will be available from their menu.
We look forward to seeing you there.
Sincerely,
W. Ruth Kozak (president of BCATW)
BCATW Annual General Meeting 2015
DATE: November 28th 2015
TIME: 11:00 to 1:30 [mingle, order refreshments/brunch…]
WHERE: Big Rock Urban Eatery upstairs conference room at 310 W 4th Ave, Vancouver, BC V5Y 1G9 Map

AGM AGENDA
1. 11:30 Call to Order/Welcome -Ruth Kozak, President
2. Circulation & Adoption of Minutes of November 2014 AGM -Chris Millikan, Secretary
3. Reports
Overview of 2015 Activities -Ruth Kozak, President

Financial Statement (July 1, 2014 – June 30, 2015)

 

-Karoline Cullen, Treasurer.

Communications -Mari Kane

Marketing & Industry Relations -Randi Winter

Meet-up Program -Mari Kane/Randi Winter
4. Election of Directors 
Pursuant to Bylaw 26.1 of the BCATW Constitution, in addition to submitted intentions to run, on-the-spot nominations will be accepted. Directors retired from office are eligible for re-election.  If more than one nominated candidate for the same Board office, elections will be held with present members filling out ballot slips.  
BCATW Board Elections 2015
VP (2 years)

Secretary (2 years) Chris Millikan will stand

Communications Director 2 Mari Kane will stand

Treasurer (2 years) Karoline Cullen will stand

                                     
5. New Business
Constitutional Amendments: Baila & Committee

2016 Symposium:

 

Possible Date, Venue Liaison, Refine theme 

Choose Symposium 2016 Chair

Choose Symposium Committee Volunteers

Name change: Do we need a name change? [Yes? No? Refer for full discussion in January.]

Two-year memberships.

   
6. Open Forum
Priorities for 2016

Issues
7. 1:30 Motion to Adjourn
Member News
At last, Julie H. Ferguson has been able to travel further afield than BC. At Thanksgiving, she enjoyed the spectacular autumn colours at Le Chateau Montebello on the Ottawa River in Quebec and the feast with family in Ottawa. While there for the thirty-fifth time, Julie visited two places she had never seen: Rideau Hall and the Ottawa locks that lift boats from the Ottawa River to the Rideau Canal, which she cruised all the way to Kingston in 2014. Blog posts and articles will appear soon.
The fall also saw Julie's images and article, The Holy Isle of Iona: A Historical Pilgrimage, as well as seven more about her 2014 visits to the Outer Hebrides and southern Iceland.
Ruth Kozak spent September and most of October traveling in UK, Spain and Greece gathering new material for travel stories. While in UK she did a walking tour of the Cotswolds. In Spain she met with travel writer Darlene Foster. During her time in Athens she was introduced with her book at a meeting of academics at the Hellenic Institute of Strategies. On Oct 7 she read from her novel SHADOW OF THE LION: Blood on the Moon (volume 1 of 2) at the Canadian Institute in Greece.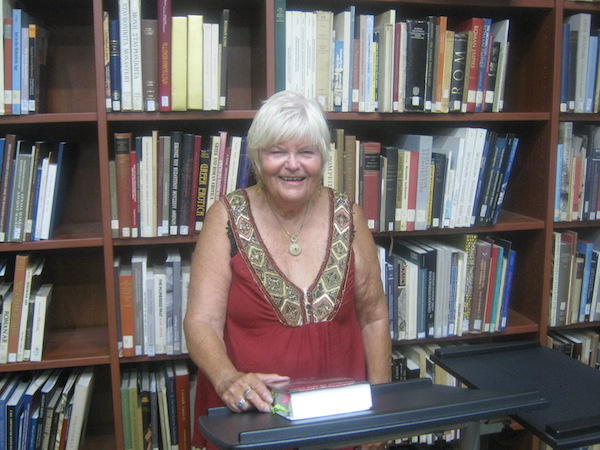 Ruth has been invited to return next year to read at both the Canadian Institute and the Athens Centre. While In Athens she also visited book sellers for information on translations. One of her major accomplishments on this trip was a hike up the mountain to see the Cave of Euripides where the dramatist once lived on the island of Salamina. She also visited the famous battle sites of the Battle of Salamina and Marathon where the ancient Greeks defeated the Persians.

Darlene Foster has been exploring the Mediterranean coast this month with visits to Barcelona, Marseilles, Genoa, Pompeii and Malta; collecting material for future books and articles. She has completed the fifth book in the Amanda travel adventure series, Amanda on the Danube-The Sounds of Music to be released in 2016.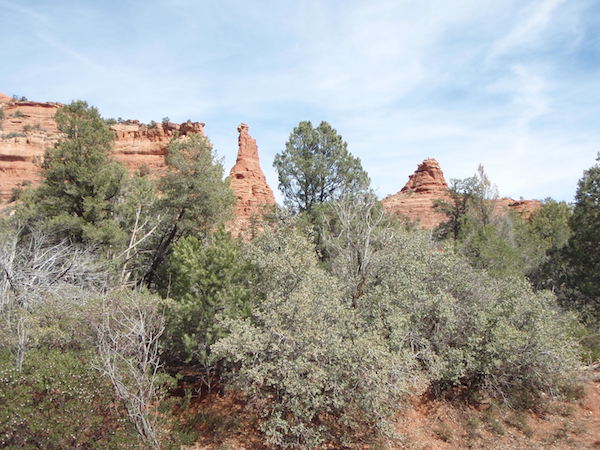 Her article, Three Generations Enjoy Sedona, has been published in Travels Thru History. Darlene is enjoying the relaxed lifestyle of the Costa Blanca in Spain.
Peppa Martin is now a contributing writer for DZineTrip, an online publication featuring articles on art, architecture, design, photography, lifestyle and technology. 
In the summer, the CBC used video shot by Gary Cullen and stills shot by Karoline Cullen for two pieces on orcas.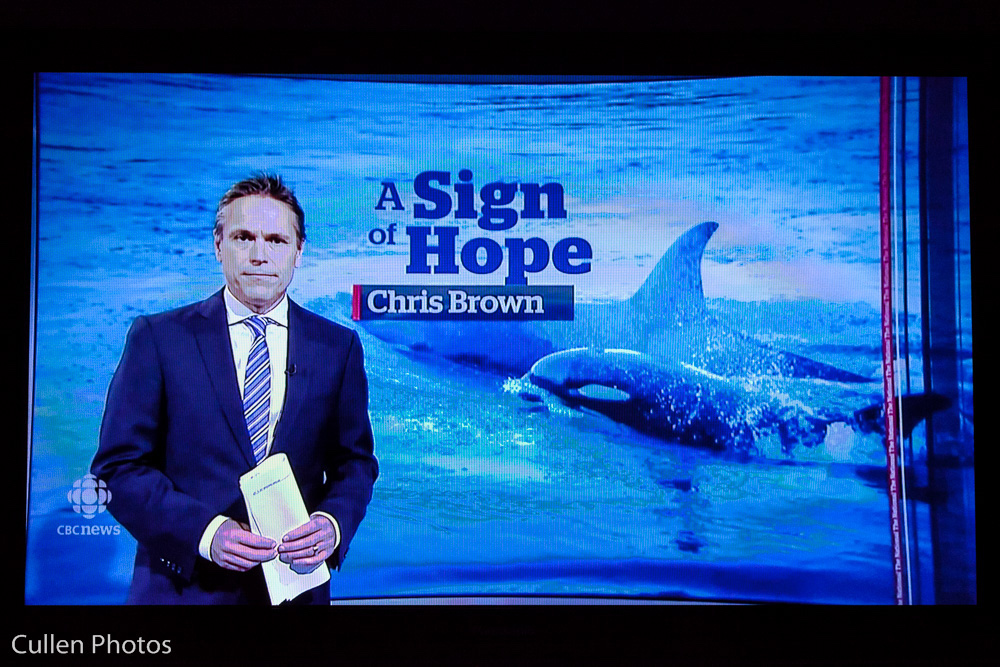 The still was for B.C. orca baby boom offers hope, but population still fragile. The video, About 50 Orca killer whales playing in Active Pass, Galiano Island, British Columbia, Canada, went viral on the CBC site. Also, Karoline's article "Hit The Road – A Northern Circle Drive" ran in several BC community papers. 
Mark Leiren-Young ended up doing a bit of accidental travel writing when a flash flood became the big news on his recent visit to cover MIPCom in Cannes. The story was published in The Walrus.
Kerri-Jo Stewart wants us to know about a series of free workshops sponsored by the Richmond Public Library, in which she will present on November 30.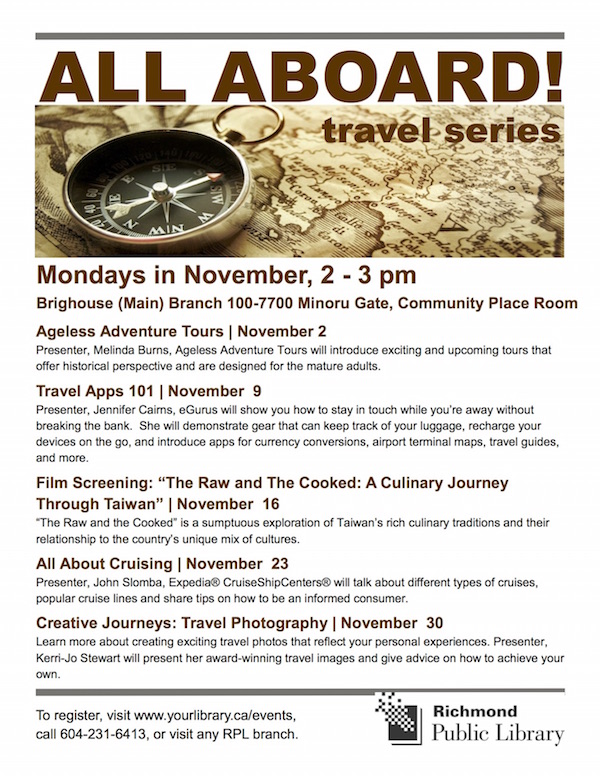 BCATW Industry Member News
Bestway Tours & Safaris is operating a unique journey tracing the historical Persian Gardens in Iran. The tour starts at Tehran, Iran on April 24, 2016. This is a once-in-a-lifetime journey and is led by the world-renowned garden historian and landscape architect, Jill Cherry (ex director of the Van Dusen Botanical Gardens).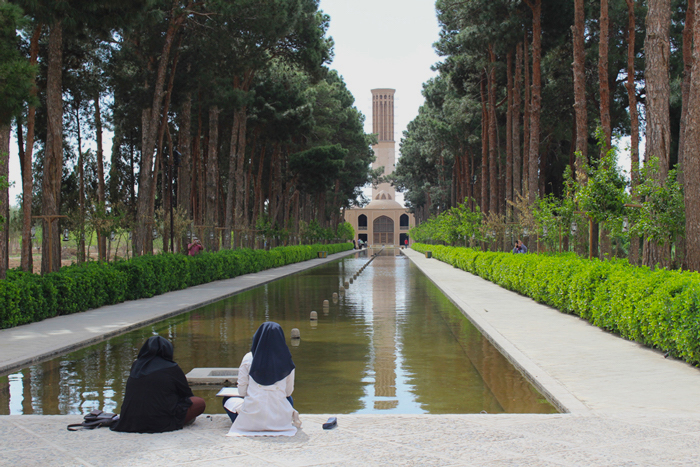 The 15 days tour combines the legendary gardens that have been referred to in the Bible combining with visits to major historical treasures of Persia including Persepolis, Pasargadae, Bam, Mahan and historical cities like Shiraz, Isfahan, Yazd and Kashan. Several of the UNESCO World Heritage Sites in Iran are also visited. Details of Persian Gardens tour.
Bestway Tours is offering BCATW media members a special price on this tour. The offer is limited to a maximum of 2 writers and selection will be based on qualifications. For details contact education@nullbestway.com
November BCATW Meetup
How To Become A Travel Writer (Seriously) with MatadorU
Thursday, November 19, 2015 7:00 PM
Big Rock Urban Eatery 310 West 4th Ave, Vancouver, BC
Upstairs in the Conference Room
Are you serious about becoming a travel writer? Are you willing to do what it takes to be among the best of the best?
If so, Matador Network Ambassadors and BCATW members, Kathryn and Jett Britnell, will tell you how MatadorU's Travel Writing Program can help you become a published travel writer.
MatadorU offers online courses, tips, and a professional career development community for aspiring travel photographers, writers, and filmmakers. The program is endorsed by National Geographic.
Read more about Kathryn and Jett on Matador Network
"It is better to travel well than to arrive."– Buddha