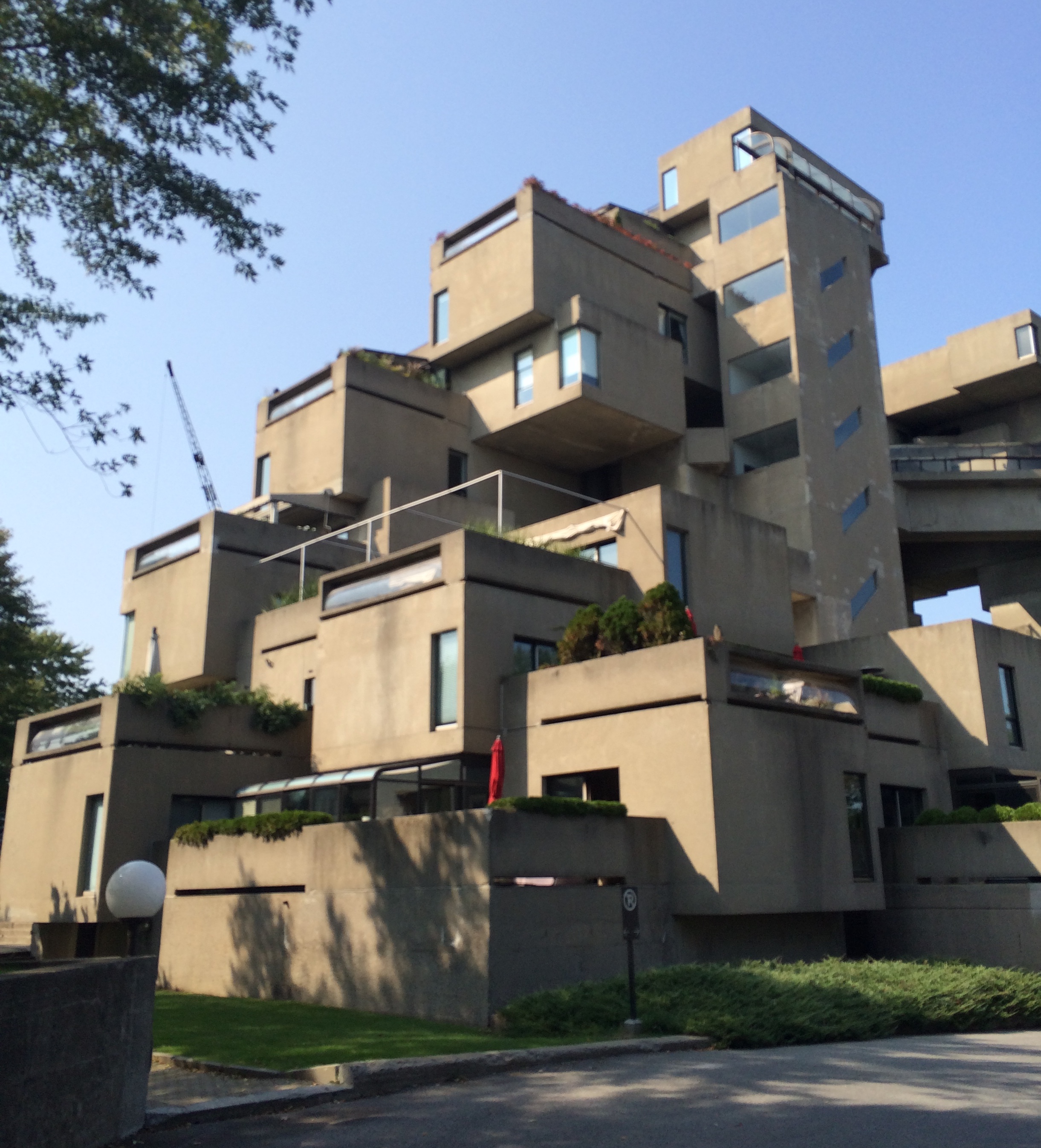 President's Message
A 4:00am evacuation from an AirB&B (due to some crazy person turning all the taps on in his apartment upstairs causing leaks all the way through the building) did nothing to dampen a gorgeous day in Old Montreal recently.
I've only been away a few years and the Old Port has exploded with activities. There's a new high ropes course, a zipline, an Amphibus and the Montreal Observation Wheel. But the highlight had to be a tour of Moshe Safdie's Habitat with a colleague from McGill Architecture who lived in the structure. As long as I'd lived in Montreal, I'd never gotten this close and it stunned me at every turn. (And there were LOTS of turns!) If you're ever out there, grab a chance to walk around this gorgeous structure. And read up on its history. Although the original concept was Safdie's it took a few more architects and engineers to actually bring it to fruition.

Videos, PDFs and photos wanted
As the BCATW often has a table at community events, such as the Library's Write On Festival, we need some visuals to present to passers-by to encourage them to learn about the association. If you have PDFs of articles; an amazing photo of a favourite location; a short (up to 3 min.) video you're proud of, please email me at baila@nullshaw.ca and I will provide you with a DropBox link in which you can share it. PLEASE DON'T SEND MATERIAL THROUGH EMAIL
Free symposium entry for mentors
The BCATW board has agreed to offer complimentary entry into next year's symposium, as well as an extra business card in the door prize basket, to members who step forward to be mentors to those in the association needing help. The requirement would be to provide one-two hours of mentorship to a mentee once a month for six months to be completed before the symposium (set tentatively for the end of April). If you'd like to learn more, email baila@nullshaw.ca.
New venue for Meetups
The board is trying to find a hospitality venue that would agree to sponsor our evening Meetups in exchange for becoming an industry member. If you have any ideas, please forward them to Mari Kane to see if it would work for her Meetup Group. There should be enough space to hold between 20-30 people.
–Baila Lazarus, President
Julie H. Ferguson has just come up for air in Paris after a hectic month in the UK and Poland, on a Russian cruise, and then in the Loire Valley. She has material for many articles and about 3,000 images so far. She flies to Ontario for 10 days in October to visit friends and family for Thanksgiving. Julie moved from Port Moody to Penticton a week before her six weeks in Europe and is looking forward to settling into her temporary home while her new condo is finished. Winter is for writing!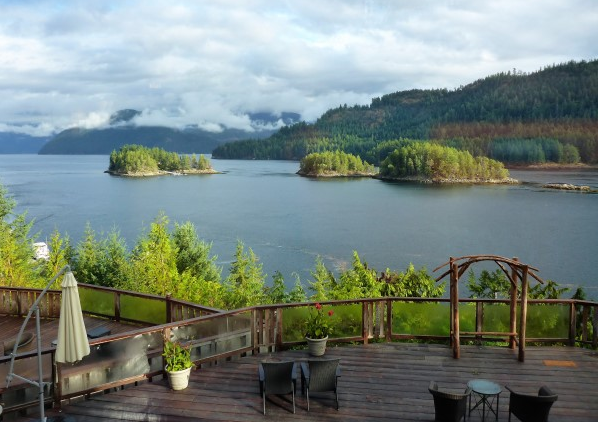 Joan Boxall's August-September trio of blogs kayak-paddled her to Thetis Island, Wallace Island (off Salt Spring's NE coast) and up the Sunshine Coast to West Coast Wilderness Lodge (in photo), near Egmont, where more kayaking was had in B.C.'s deepest inlet, Jervis.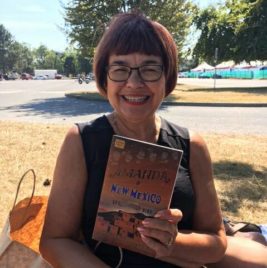 Darlene Foster has returned to Spain after a wonderful six-city tour in B.C. and Alberta where she sold out of copies of her latest book, Amanda in New Mexico – Ghosts in the Wind. She visited schools, libraries and bookstores.
During a school visit, children clapped enthusiastically after she showed the trailer to her book and said they liked scary books with ghosts in them. One adult reviewer stated, "It will teach children about a new place and culture, all in a very exciting and reader-friendly way. I've never been to New Mexico, but now I feel like I have." Darlene enjoyed presenting to BCATW at the September 6 MeetUp.
Ruth Kozak is back in her beloved Greece gathering new travel article material.  She is currently in Iraklion Crete and will be meeting her writer mentor friend Dr Jack Dempsey who writes about the Minoans  Then she will return to Athens for readings from her Shadow of the Lion novels at the Canadian Institute, the Athens Centre  and the American  Community  School.
Brian K. Smith has had quite the year, taking him from Mexican beaches to Chinese lecture halls. 
In August he was invited to join Langara College as an instructor in their Continuing Studies Travel Program. He kept his connections with his Alma mater college since graduation 40 years ago.  
"This is quite an honour and couldn't be at a better time as I plan to retire from my corporate job in the next year. My first tour –
China – Fusion of New and Ancient
 is already on their website and I will have an info night at Langara on November 14, 2017," Brian said. The Adventure tour will be from May 13 to June 1, 2018 – including Shanghai, Su zhou, Nanjing, Xi'an and Beijing. Domestic travel will be by High Speed Rail (HSR). It will be a tour of Culture, Food and Craft beer.
The day after the Langara meeting in August Brian was offered to be a photographic guide for a large photography group in Northern China that would like to bring seasonal tours to BC. The plans are solidly underway for next spring now.
Currently, Brian is in Suzhou, China. He arrived in China September 12 to attend the PingYao International Photography Exhibition where he displayed the world priemère of his "Face Behind The Mask" photographic and video project. On September 23, he travelled north to Shijiazhuang to give two lectures to 160+ "attentive" photographers. Right after, on September 25 he headed to the Southern China city of Wuhan to give another lecture on photography at an environmental conference. From there to Shanghai, Suzhou and Xi'an to complete presentation materials for November's Langara presentation.
In the middle of all this he found out he had won BC Ferries "Share the Coast" social media contest with his Sunshine Coast kayaking photograph. There were close to 12,000 entries on line through social media.
Mari Kane has uploaded more WordPress training videos to her channel, Mari Kane's Blogsite Studio. Please check them all out and like and comment as you go. And come to her BCTW Meetup on December 6 about blog posting.
This new video about Writing a Blog Post is a must-watch for wannabe travel bloggers.
Baila Lazarus
has rebranded her media training to "Disruptive PR" and has moved her website over to
BailaLazarus.com
. Click to find out how to get media coverage for your business. Her next course on 
October 3
 at
Small Business BC
includes how to write media pitches and how to become a guest on a podcast.
Traveller's Report
Uber may be coming to Vancouver this December depending upon what the BC government decides this fall. John Thomson sends this report from Los Angeles on what to expect if the controversial but popular ride-sharing program gets the green light.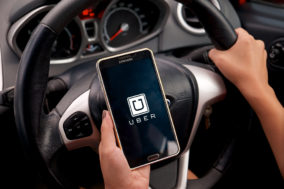 L.A.'s Uber drivers are an opinionated and chatty bunch. Kris, from Beirut, told me there's a real estate boom in Lebanon. Angeline, from Manila, railed against the Americanization of the Philippines while Necola, born and bred in Los Angeles, complained about the fight over health care and how it's going to impact her sister's liver transplant. "He's not my president," she said about Trump's machinations without any prodding on my part.
Thanks to Uber we now have citizen-chauffeurs, folks just like you and me except they all have a story to tell and they're not shy about sharing it. Not surprisingly, in LA, many are film school graduates or indie filmmakers making ends met before they hit the big time. Most are driving part-time, treading water until they can realize their true passion. Roberto, a former airline pilot, told me he wanted to be an opera singer and sang a full-throated aria as we barrelled down the freeway. John from Atlanta peppered me with questions about BC tax credits for his next movie. Naturally, at the end of the rides, they handed me their business cards.
No doubt about it, Uber has re-defined the traditional passenger-driver relationship.  We're all buddies once we're in the car. Whether this will continue when Uber finally comes to Vancouver remains to be seen. Canadians are generally more reticent than Americans so I suspect there won't be as much chit-chat. On the other hand, having an ordinary Joe at the wheel may get everyone to loosen up. Get ready for an earful Vancouver. Get those stories prepared. I've memorized mine – it's a doozy – and print up those business cards just in case.
Fall BCTW Meetups
Wednesday, October 4, 7:00 PM
With Jami Savage, blogger and BCATW member
---
Wednesday, November 1, 7:00 PM
With Dannielle Hayes, photographer and accessibility advocate
---
Wednesday, December 6, 7:00 PM
With Mari Kane, blogger and BCATW Communications Director
See you at the Meetups!