The April 10th BCATW 2016 Symposium, themed British Columbia – Too Beautiful For Words, is shaping up to be quite a memorable event.
Not only will we gather in an impressive architectural gem to mingle with the province's travel publishing elite and industry powerhouses, we are also going to hang onto the edge of our seats in competition for some amazing prizes in the BCATW 2016 Contests.
Once you register for BCATW 2016, here's what you can enter:
Photo Contest
Our Photo Contest will once again be held in advance on Facebook and the winner will be announced at the end of the symposium. The theme is British Columbia, of course!
This year, you can enter in either the Pro or Writer category, as stated in your image's caption.
The reason we split the contest is in response to concerns from last year about leveling this playing field. Not all of us are professional photographers and simply can not compete with the likes of Brian Smith, or the Britnells, or Karoline Cullen. So now, we have our own category.
So far, I'm the only entry, thanks very much. I've always wanted to take a ride on a zipline. (See Prizes.)
Each category will have a 1st, 2nd, and 3rd place prize. Contest is open to symposium attendees only, who may enter up to two images in only one category.
All entries will be displayed in a slideshow at the symposium. The winners will be announced at the symposium and must be in attendance to accept their prize.
1st Place winner of the Writer Photographer category will also have their image enlarged, and framed compliments of Opus Art Supplies, and displayed in the window of Peppa Martin's Truth and Beauty Gallery, 698 W. 16th Avenue, from May 12-28.
The photo contest will also be judged by BCATW member and art dealer, Peppa Martin.
The contest is open now and ends at midnight on April 7, 2016. Contest winners will be announced around 4pm on April 10.
After you've registered for the symposium, please enter your best images of BC on the Symposium Facebook Page where there are more contest details.
Good luck!
Twitter Contests
Two Twitter Contests will be held: before and during the event.
The attendee who tweets the most "#BCATW2016" hashtagged tweets from March 2 to April 8 will win one prize.
And the attendee who tweets the most "#BCATW2016" hashtagged tweets during the symposium will win another prize. Those tweets will be projected live during the symposium.
Not only that, this year you can follow all BCATW 2016 attendees at BC Travel Writers Lists on Twitter.
Tweet away!
Blog Contest
To celebrate our new Travel Blogger Membership, there will also be a Blogging Contest. Attendees who blog about the conference, the Anvil Centre, the after party location (TBA) or downtown New Westminster can compete for 1st and 2nd Place prizes.
To enter, please post on a blog and email a link to BCATW with the subject header, "BCATW 2016 Blog Contest" by May 31st. The winner will be announced in mid-June.
If you are new to blogging or wonder what the criteria will be, please read, Mastering the Most Essential Elements of Perfect Blog Posts for inspiration.
Prizes
The prize for each winner in our Photo, Twitter, and Blog Contests is a zipline experience with SuperFly Ziplines in Whistler, BC, who have generously donated 10 free tickets!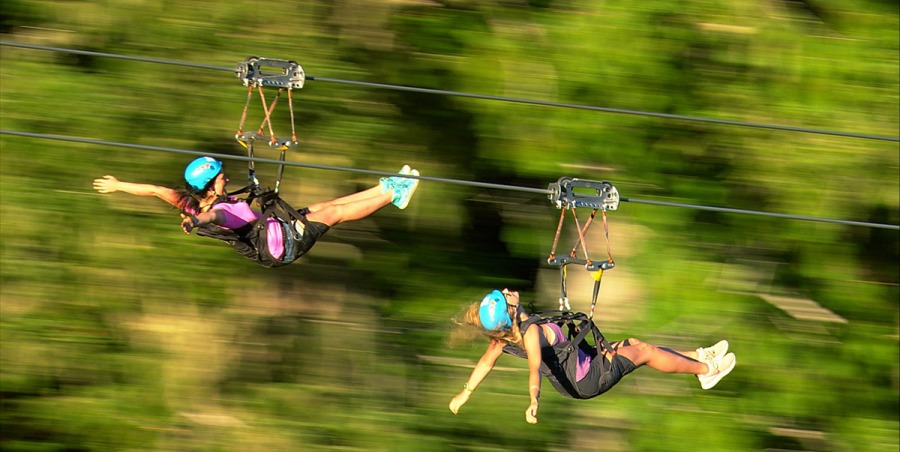 With the exception of the Blog Contest – which awards in June – all winners must be in attendance to accept their prize.
In between regular symposium programming, we'll have lots of drawings for travel-related prizes.
Here is a list of prize donors, so far:
Royal BC Museum
Scandinave Spa
Capilano Suspension Bridge
Butchart Gardens
Osoyoos Desert Society
Wickininnish Inn, Tofino
Larch Hills Winery
Forbidden Vancouver Walking Tours
SuperFly Ziplines
Sewell's Marina
Wild Rice Restaurant
Manning Park
Okanagan Lavender & Herb Farm
Taste Vancouver Food Tours
Kokanee Spring Resort
Gray Monk Winery
Peg Steley's THE DRESS
EdgeCeptional Catering
Grand Prize
This year's Grand Prize is 2 nights accommodation for 2 at the Kokanee Springs Resort, Crawford Bay BC in the Kootenay Lake area. The package includes 18 holes of golf, plus cart, for all you golfers out there. And if you're not a golfer, don't worry, there's plenty to see and do in this spectacular piece of BC.
BCATW 2016 Contests Wranglers
A hearty thanks to Joan Boxall for her tireless work as our prize wrangler. Also, grats to Maros Handzak for helping Joan with donor and sponsor wrangling. You two are awesome!
So, register now for BCATW 2016. Promo Code for BCATW members is "ziggystardust."
The sooner you register the sooner you can start competing in our BCATW 2016 Contests!
See you at the symposium!