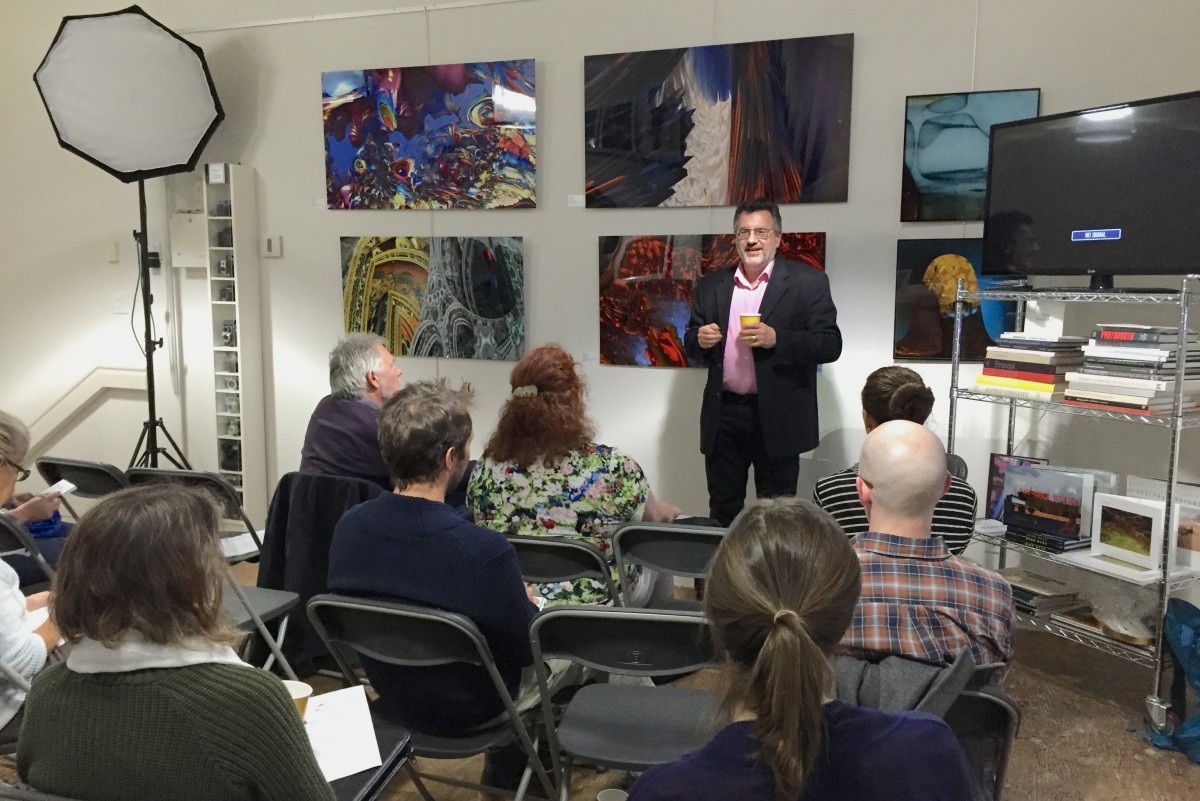 It was a healthy turnout, just shy of 20 members and guests, at Peppa Martin's Truth and Beauty Gallery on Wednesday, September 30th for the BCATW's first Meetup of the season.
The topic was turning dominant impressions into saleable stories and guest speaker Don Genova, writer, teacher and broadcaster, wasted no time in explaining the process he and his wife employ while travelling.
"We take out a notebook and start writing, maybe the next morning at coffee, but quite often after we've had our day. Usually with a cocktail, because why not?" We all laughed. "What was it that really struck our fancy?"
He then gave us 11 impressions of a trip he made to New York City. Using the line "shaky-handed waitress spills wine," he showed us how that particular dominant impression could be turned into a story about the awards show he attended. The protestors waiting outside or a piece on James Beard, the man the awards are named after – all impressions to create a story around. He gave us 10 other examples from a trip to Sicily, the point being a dominant impression can be turned into a hook if not the lede.
The second half of the evening was devoted to questions. Non-members wanted to know how to write a query and whether one should write the story in its entirety before sending out feelers. Genova said 'no' because you don't know what the editor wants.
Tell the editor what the story is and how you're going to tell it, he advised, adding, "if you can show you can write in your letter, you're halfway there."
Genova said traditional markets for travel writing are diminishing. So are fees. "Everyone is waiting for the next big thing that actually respects what writers do and pays them."
He talked about a run-in he had with an aggregator who wanted to pay him $50 for an 850-word listicle.  
"You have to determine whether you want to write advertorials or write your own stuff," he concluded, bringing to an end an informative evening that deftly balanced a specific writing technique with the reality of the marketplace.
Inspiring yet sobering.
Don Genova is also the Freelance Branch representative of the Canadian Media Guild, which he encourages us all to join.
Upcoming Meetups
Tuesday, October 20, 2015 – 7:00 PM
Big Rock Urban Eatery 310 West 4th Ave, Vancouver, BC (map)
Website hacking has been out of control in the past year, with WordPress being the biggest target for brute force attacks, malicious code injections, and numerous other compromises. What will you do about it?
Come to WordPress Workshop and ask Eoin O'Dwyer, Senior Front-End Programmer at Graphically Speaking, who will discuss how to prevent, detect, and survive a WordPress hack.
Note: You don't need to know how to code to understand Eoin. Much of what he'll explain can be understood by a 12 year-old. 
About Eoin:
Eoin O'Dwyer is a front-end web developer who works primarily in WordPress. His background was originally in physics, but he switched over to web development in order to build his own worlds.
RSVP Now!
Wednesday, October 21, 2015 – 7:00 PM
Big Rock Urban Eatery 310 West 4th Ave, Vancouver, BC (edit map)
You've heard about press trips to wine country, media lunches at fabulous restaurants, and interviews with fascinating chefs and winemakers, and wonder: how can you get in on those writing opportunities? Welcome to the world of the PR Agent, the go-betweens for hospitality companies and the media. They're the people who will connect you with the people you want to write about.
BCATW is thrilled to present Leeann Froese, co-owner at Townhall Brands to speak to us, and learn from you, about how to work with PR agents to create the kinds of wine and food stories that publications want.
About Leeann
For the past 18 years, Leeann Froese has worked with Canada's best-known wineries (yes, she helped them earn that distinction) to dream, shape strategies, and communicate key messages. Her success in generating publicity for her clients would translate to a bookshelf filled with press clippings. She knows how to find, craft, and share clients' stories. Find Leeann online at @leeannwine or @townhallbrands
See you at the next Meetup!