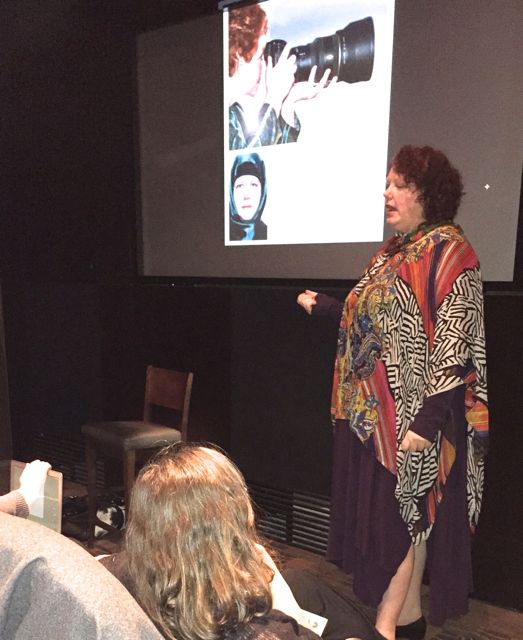 For our first meetup of 2015, it was fitting that we took a journey through fellow member Kerri-Jo Stewart's very interesting photography galleries.  Visually she took us away – to Turkmenistan (where she has been invited 6 times), Argentina, China and then home to projects here in the lower mainland.
After calling the meetup  to officially commence, we took a few moments to raise the lights and get to know our audience a bit more. This definitely reconfirmed that our current members (and our treasured non-member guests) hail from a wide and varied pool of talent and experience.
With the motivation that comes from hearing and savouring these personal morsels, it was time to get to the meat of the evening – learning about "What to Shoot for on a FAM Trip".  While strolling through the "candy for the eyes" galleries, Kerri-Jo shared with us a banquet of information.
On with the Meetup
Did you know that Kerri-Jo primarily uses her DSLR with a 50mm lens?  Or more recently, she has been shooting with a Fuji Mirrorless Digital Camera.  She likes shooting with the Fuji due to its silence – it doesn't have any of the whirring or clicking from her main camera.  Wait a minute!  Aren't photographers supposed to wear a bell, like a stealthy, ever watchful cat?!?!  And, yes, Kerri-Jo does occasionally shoot with an iPhone. 
Whenever she is shooting, she uses the camera not on the automatic aperture setting but set at the lowest aperture – f/1.14.  It opens the camera up for the most light.  That's important especially when you are working in low light, such as when Kerri-Jo is shooting the "Cavalia" show, as her first love and her photographic specialization has been horses.  However, Kerri-Jo recommends the lowest aperture for most situations, not just low light.
Kerri-Jo rarely uses photoshop but prefers to work with light and colour (plus the Fuji film means no need for colour corrections).  As well, she has an amazing ability to stay stabilized to shoot (no tripods required for this photographer).  This is a technique and a skill that is being tested right now as she forays into longer exposure photography.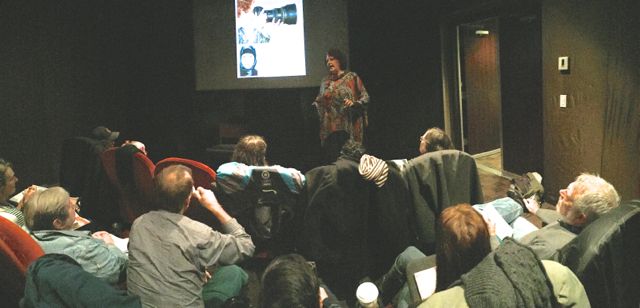 Part of Kerri-Jo's plan of attack during FAM trips is to "go where the others are not".  What she means here is that where there are a lot of photographers (or even when there are not), pick a spot to do your shooting where they are not – a unique perspective.  Or travel around once you have that first shot.  (If you can.  It's not always possible on some FAM trips where location may be assigned – Turkmenistan – or the situation is less than ideal for free movement – Argentina).  This way you not only get different angles on the story but the clients get to possibly choose your original angled photos over (or at the same time) as all the others who were pointed at the same spot.
There was some discussion as well about taking photos at tourist attractions (e.g. statues, buildings, etc.).   Do you include people or not?  It probably is best to shoot a variety for options for your client or let your own photographic eye decide.
As anticipated, Kerri-Jo not only shared her colourful and vibrant pictures, she also shared some of her FAM trip stories and included some great advice.  She recommends not accepting to go on a FAM trip without a contract or at minimum a letter of intent or an itemization of agenda and desired trip outcomes.  Otherwise you could be living her cautionary tale of shooting out a moving car window (Argentina) or wearing flip-flops to climb a mountain.
Kerri-Jo concluded her presentation with a recommendation that, regardless of what/where your travel writing take you, find a project – something that is uniquely your own and accessible – which can allow you to shoot close to home.  Although Kerri-Jo's primary models have been horses, she has another project "The Dogs of Steveston" or some of her current experimentations with prolonged exposure photography.
A delightful, informative and inspiring meetup for sure.  If you would like to take a peek at Kerri-Jo's work, she does have an excellent collection of galleries at www.argamak.ca and she can be found on facebook at https://www.facebook.com/Argamak.
Thank you Kerri-Jo for the wonderful photographic tour!
If you are missing our meetups, please join our group at Meetup.com to get all the announcements.
BCATW 2015 Symposium
Prior to the meetup, the symposium committee met and came to an agreement on the location and date of our next symposium.
It will be April 18 at the Century Plaza Hotel. Theme: Ecotourism.
We want to hear from you. Please go to SurveyMonkey and tell us what you want to see at the symposium. This will help us make decisions as we move forward with our plans.