It was a double whammy at the February Meetup on the 3rd. Reps from two tourism boards explained what they do and what they're looking for from folks like us.
Amber Sessions, Communications Manager at Tourism Vancouver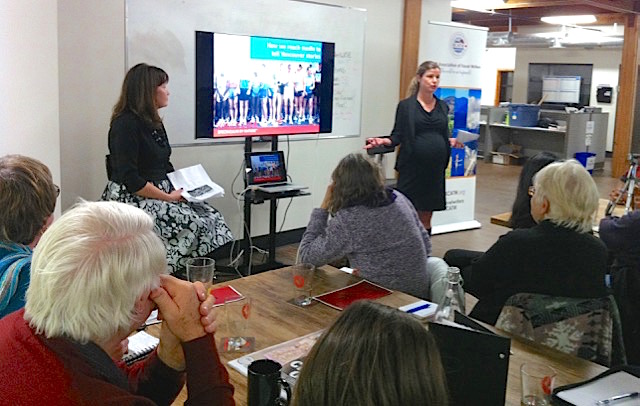 Amber identified the Tourism Vancouver's key objectives – to bring people to the city all year round (not just for the fireworks), increase overnight stays and increase spending.
"We're mostly interested in media that aren't in Vancouver," she said, underscoring the three key markets Tourism Vancouver is targeting this year, Canada, USA and China. Tourism Vancouver's visiting journalist program brought 354 travel writers into the city from around the world last year.
International travel writers also benefitted from the organization's media experience pass, free entry to local attractions. Although intended primarily for international media, locals can apply too.
The three key sectors Tourism Vancouver wants to reach include the gay and lesbian community, the meetings and conventions people and millenials.
"We're interested in working with Vancouver-based media who have an audience, people who have traffic and eyeballs," said Sessions.
She then delivered a series of tips on working with tourism boards. Come to us for help first, she said if approaching our member organizations, come to us with a confirmed assignment and be clear on metrics.
How many eyeballs are enough to warrant consideration? There was some discussion on numbers with 5,000 being bandied about although Amber said there was some flexibility on UVM's depending upon the writer's level of engagement with their audience, even better if it were a Tourism Vancouver key demographic.
Mika Ryan, Manager, Travel Media Relations at Destination BC
Destination BC is the provincial tourism marketing board. Mika Ryan screened a video to introduce the organization's new tagline, "find the wild within."
"The essence of our brand is that we live in this place that's defined by nature," Ryan said. Destination BC will be spending more money on five key markets this fiscal year –  BC, Washington, Alberta, California and China.
Although 2015 was a banner year, Mika expects more visitors to BC in 2016, especially from the rest of Canada and the United States because of the low Canadian dollar.
Like Tourism Vancouver, Destination BC has conducted extensive research on what kind of traveller visits BC and what they're looking for. Their research has identified ten kinds of travellers and it will be paying special attention to three specific profiles,  authentic explorers, cultural explorers and free spirits.
"I'm looking for publications that target these kinds of personalities, "said Mika, adding that Destination BC's strategy is to fit the journalist to the marketing plan. And the marketing plan can have many faces. "Travel media isn't always in the travel pages," she said. "Sometimes it can be lifestyle or sports."
"Everytime I get a request from a journalist, these are the things I look at," she continued. What kind of assignment is it? What's the topic? Is it targeting our key audience? Does the publication align with our brand? 
Destination BC, like Tourism Vancouver, wants to work with influencers. "You have to think of yourself as a brand," she pointed out. Circulation is key (55,000 is the minimum threshold).
Social media reach is paramount. "We look at their Facebook page, Instagram, everything,"she said of the people or institutions that want the agency's help. "Mobile technology is more important than ever,"she confirmed.
What did we take away from Mika's presentation? Although Destination BC has its own stable of writers, the corporation does contract freelance writers to help write its blogs.
It has also instigated a campaign of sticking artists in the wilds and recording their impressions. Mika ran a video with slam poet Shane Koyczan to illustrate the point.
Interesting stuff, but the biggest news concerned Destination BC entering the content marketing business.
"When pitching your stories, it doesn't have to be to media outlets," Mika said acknowledging the fact Destination BC welcomes content aligned with commercial brands. She used the organization's experience with clothing manufacturer Patagonia, as an example. Destination BC lined up some venues; Patagonia referenced BC in its magazine.
"Marketing is finally figuring out that storytelling is so important and one of the things they need is good writers and good photographers," she said. Music to our ears.
Get more from tourism boards
Both DestinationBC and Vancouver Tourism have newsletters for the travel media. To receive them, contact Mika at Mika [dot] Ryan [at] destinationbc [dot] ca and Asessions [at] tourismvancouver [dot] com.
Thank you Amber and Mika for an informative set of presentations!
The next BCATW Meetup is Travel Writing Basics with Ruth Kozak on Wednesday, March 2.