The BC Association of Travel Writers is pleased to announce the appearance of Photographer David Smith at its annual symposium, this year themed, Ecotourism: Tread Softly, Write with Impact on April 18.
David Smith of Vancouver is a professional freelance travel photographer, writer, blogger and keynote speaker. He has recently been published in the Wall Street Journal, National Geographic Traveler, Geo Saison Magazine and USA Today Travel Online.
As a frequent traveller and cruise ship guest lecturer, he and his wife Anna have travelled to more than 110 countries on 6 continents. Smith's presentations on travel photography, world cultures and ports of call are peppered with stunning images and travel stories meant to inspire his audiences.
He has published a popular series of digital photography and travel photography tutorials as CD/DVD media or online.
Visit David Smith's blog and photography galleries at Interface Images.
Ecotourism Photo Contest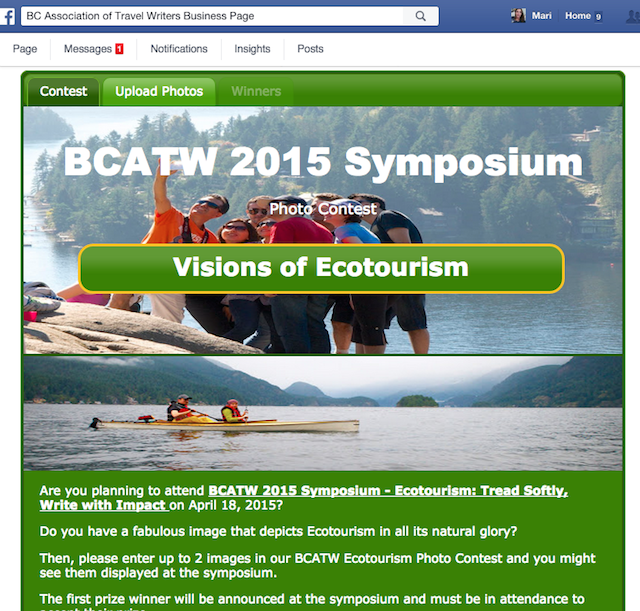 The BCATW is also planning a photo contest for the symposium, Visions of Ecotourism, for which Smith will serve as judge.
Symposium attendees are invited to enter up to 2 images by uploading them to the new BC Travel Writers Business Facebook page.
Contestants who receive the most Likes will advance as finalists and have their images displayed at the symposium.
First Prize is a one night stay at Tigh-Na-Mara Seaside Resort & Spa.
Second and Third Prizes are Deep Cove Canoe & Kayak rentals and Sewell's Sea Safari Guided Nature Tour.
Winners will be announced at the symposium and must be in attendance to accept their prize.
The Contest begins on February 25 and ends at midnight on April 17, 2015.
So, register to attend and upload those Ecotourism pics!
About the Symposium
The BCATW 2015 Symposium, Ecotourism: Tread Softly, Write with Impact is an all-day event at the Century Plaza Hotel in Vancouver, BC on Saturday, April 18th from 9am to 5pm.
The program's Keynote Speaker is author Jack Christie, one of Canada's most trusted sources on travel, recreation and sport.
One panel will be composed of a cross section of editorial representatives to discuss ways to get your stories published.
A second panel of industry experts will be discussing future trends and challenges in the Ecotourism genre.
BCATW members receive the member rate of $45.
Non members are invited for $60 until March 14, after which the rate rises to $70.
Registration includes lunch, snacks, prizes and entrance to our post-Symposium networking event.
A Grand Prize Draw will occur for one lucky BCATW writer to win a 6-day kayak tour in the Great Bear Rainforest with Mothership Adventures aboard the historic Columbia III.
Please register now at bcatw.org/bcatw2015/ !
Promote Us!
Please post this banner on your Facebook, Google+, Linkedin and Pinterest Accounts: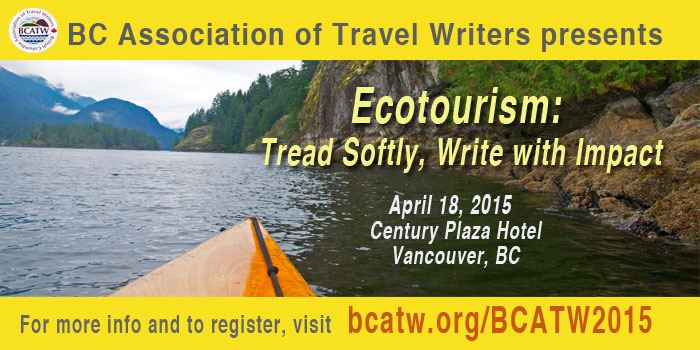 Promote the symposium on Twitter with this suggested tweet:
Register for @bctravelwriters #Ecotourism Symp Apr 18, w/ David Smith @InterfaceImages bit.ly/1vo7hqO #bcatw2015 #travel #vancouver