Symposium Update
Things are gearing up for an exciting BCATW Symposium on May 17. This year's theme is The Taste of Travel and it will be held at the beautiful River Rock Resort in Richmond.
You won't want to miss the food photography workshop, an amazing keynote speaker from New York and a panel of industry professionals available to answer questions. A wine tasting culinary experience will end the day.
Click BCATW2014 more details and register early to get a seat.
BCATW Member News
Rick Neal has had an article on the idyllic Andean resort town of Banos published on travelgeneration.com.
Mari Kane had her first Cuba story published on Offbeattravel.com. Revisiting the Bay of Pigs Invasion tells the story of her trip to this historic battlefield with her husband, and being chauffeured around by a man who lived through the Cuban revolution and American invasion. This is Mari's first submission to Offbeatravel.com, but hopefully not her last.
Ruth Kozak has had an exciting month. She unexpectedly received an invitation to visit Egypt on a press tour, leaving mid March, with a special escorted tour of Alexandria by request because of the research she did on the ancient city for her novel SHADOW OF THE LION. The novel will be published in August by Media Aria and there's already lots of publicity about it on their site. Ruth also just received the official contract for the ATHENS GUIDE e-book she is writing for Hunter Publishing, US. This may lead to an ebook guide on Greece and perhaps Egypt too. Ruth has been busy teaching writing groups including a small group of travel writers for an in-home workshop. Her story about SEATTLE will be published in March in Travel Generation. Ruth was a guest on Co-Op Radio, World Poetry on Feb. 25 in an interview about her novel. The bi-lingual program had an Egypt theme. It is still available online on the Co-Op Radio web stream for the next five weeks.
Karoline Cullen's article "Three Days in D.C." was published in several regional newspapers in February, including this photo of the Spirit of St. Louis at the Smithsonian museum.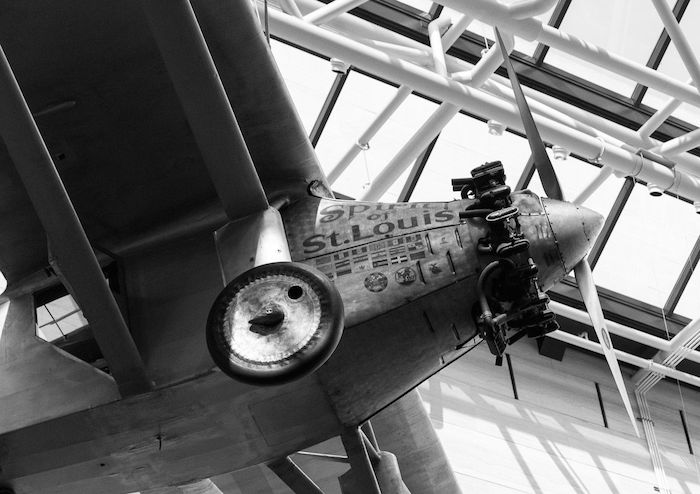 Michael DeFreitas recently won a number of 2014 NATJA writing and photography awards including:
Gold: Travel Tips & Advice writing award: "Ten Top Travel Tips," for PhotoNews Magazine
Finalist: Travel Tips & Advice writing award: "Go Wide" for PhotoNews Magazine
Gold: Landscape photography award: "Go Wide" for PhotoNews Magazine
Gold: People Portrait photography award: "The Rule of Thirds," for Just for Canadian Dentists Magazine
Bronze: Overall Excellence in photography: "Go Wide" for PhotoNews Magazine
Finalist: Overall Excellence in photography: "Ten Top Travel Tips," for PhotoNews Magazine
Darlene Foster was invited to do a presentation and reading from her novel Amanda in Arabia the Perfume Flask to Maple Lane Elementary School in Richmond. The students had been reading the book as part of their reading program. They asked great questions and where keen to learn about how she got ideas for her stories. Visits like this encourage young people to want to explore the world and perhaps inspire some to become travel writers one day.
Baila Lazarus presents Submit Story Pitches that Get Noticed
The way to send a story pitch or press release is changing because editors have so little time to read emails. You have to grab them with four or five words in the subject line just to get them to open the email, then you have to make sure that in the first sentence you tell show how what you have to offer aligns with what they need. Baila Lazarus has been training writers, business owners and PR reps how to do just that – making pitch writing easier, faster and more effective. Baila now presents through Small Business BC as well as at her own, more personalized workshops at the Vancouver library downtown. She will also be presenting to Tourism Vancouver Island at their Pro-D days March 26 and 28. For upcoming workshops, visit Phase2Coaching.com.
"I cook with wine, sometimes I even add it to the food."
― W.C. Fields